Posted on Wednesday, September 17th, 2014 at 1:19 pm.
I could not leave Sedona without introducing you to Richmond, a culinary intern from the Philippines who is training at Enchantment Resort. Much like Kosta Cvoro, the student I profiled in my last post, Richmond is excelling in his training at Enchantment. I know this because he was just awarded Employee of the Quarter! He was nominated by the resort's executive chef, sous chef, and just about everybody he worked with, it seems. This young man has made quite an impression here!
Read More ›
Categories: Employers, J-1 Visa, Participants


Older Entries
About Mark Howard
Acting Deputy Assistant Secretary for Private Sector Exchange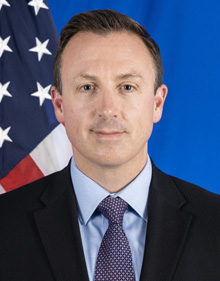 Mark Howard leads the Private Sector Exchange's Office of Program Administration which is responsible for the monitoring of Exchange Visitor Program sponsors to ensure full compliance with established Department policy and statutory and regulatory requirements to ensure exchange visitor health, safety, and welfare.

Prior to his current position, Mr. Howard oversaw exchanges through the Fulbright Program, the flagship international educational exchange program sponsored by the U.S. government, and concurrently directed two Department-designated exchange visitor programs including an international training program for environmental leaders and an academic exchange program for university research scholars and professors.

He has traveled, lived, and/or worked in more than 30 countries including two years as a U.S. Peace Corps Volunteer in the Philippines. Mr. Howard speaks Filipino (Tagalog).