Posted on Wednesday, July 30th, 2014 at 3:54 pm.
I spent my childhood attending YMCA after-school programs and YMCA summer camps, but I had never seen a "Y", as they are sometimes called, quite like the one I recently visited on Route J-1. The YMCA of the Rockies is nestled next to Rocky Mountain National Park in Estes Park, Colorado.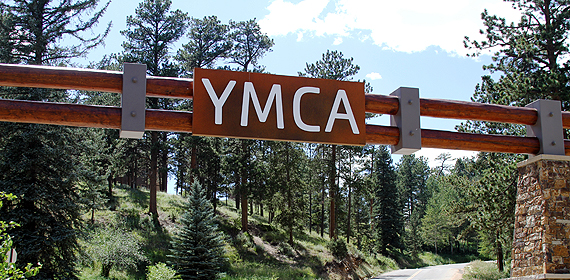 It is a family-friendly resort that is not only famous for its brand of recreation and proximity to world class hiking, but also for its J-1 staff who come from almost every continent.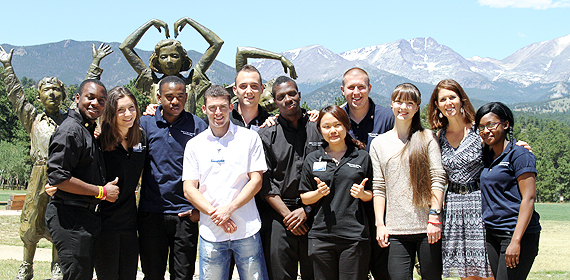 I visited the Y of the Rockies' annual international fair where their J-1 interns, trainees, and summer work students put together booths about their countries.

YMCA American co-workers, guests, and residents of Estes Park were invited to visit the fair – and they did!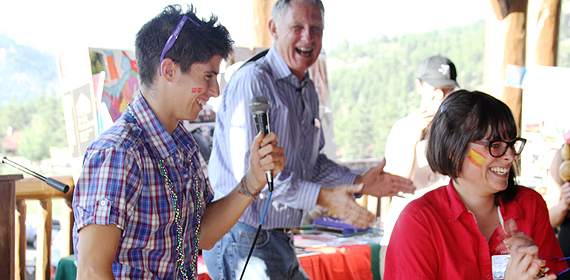 The American co-worker pictured above in the background of the picture told me, "My wife and I decided to come out here to work this summer, and we really love meeting these students!" I also heard from long-time guests, "We come every year and we always remark at how the students' English improves from our first day to our last. It's really something." The YMCA embraces the uniqueness of each participant, and encourages students to mix with guests. They know that their international flair makes the guests' visit even more special.
I met a student from Senegal who captured everyone's attention with his stature, or it may have been his warm and welcoming smile – likely both.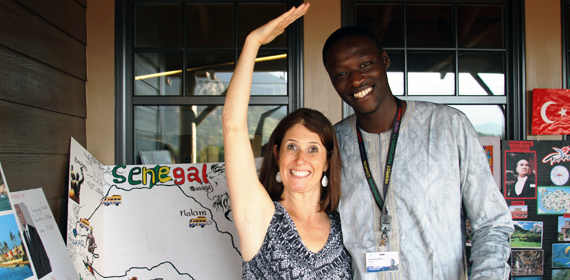 He told me that he entered the program to learn about the YMCA system and he intends to bring the Y to Senegal. He is working with the Y staff to do so, and they couldn't have been more pleased about this development.
As you can see from the photos, students were so proud to display their culture – from Colombian dancing to European football.
A spontaneous "dance off" between Colombian, Jamaican, Turkish and Nigerian students caused a lot of laughter and energy, but my favorite part was when the song "YMCA" played over the loud speakers and everyone jumped in together!


Check out Flickr for more photos!
Categories: Employers, Participants


About Rebecca Pasini
Deputy Assistant Secretary for Private Sector Exchange
Rebecca A. Pasini joined the Bureau of Educational and Cultural Affairs as the Deputy Assistant Secretary for Private Sector Exchanges in July 2023. A career member of the Senior Foreign Service, Class of Minister - Counselor, Ms. Pasini has been an American diplomat since 1997.

Ms. Pasini previously served as the Director of Public and Congressional Affairs in the Bureau of Consular Affairs from 2021-2023. Other Washington assignments have included positions in the Bureau of Consular Affairs, the Bureau of Western Hemisphere Affairs, the Office of Foreign Missions, and as a liaison to the Department of Homeland Security. She has also completed multiple overseas tours, including as Minister Counselor for Consular Affairs in Islamabad, Pakistan, and as the Consular Chief in Rio de Janeiro, Brazil and Belfast, Northern Ireland. Other tours included Mexico City and Kuwait.

A Maryland native, Ms. Pasini has a Ph.D. in Political Science from Indiana University, a master's degree in National Security and Resource Strategy from the Eisenhower School, National Defense University, and an undergraduate degree from Mary Washington College.