Posted on Tuesday, July 22nd, 2014 at 7:06 pm.
I just returned home from the beach leg of Route J-1 and have my bag packed for the mid-west and western leg. I have swapped my sundresses for jeans and my sandals for hiking shoes as I am looking forward to farms, lakes and mountains. As a proud west coaster now living on the east coast, I don't get to the central states nearly enough. I look forward to this exploration and to seeing new places through the eyes of J-1 exchange visitors. On this leg, I will visit interns, trainees, camp counselors and more summer work students.
Categories: Everyday People, J-1 Visa, Participants


Posted on Monday, July 21st, 2014 at 1:28 pm.
About Mark Howard
Acting Deputy Assistant Secretary for Private Sector Exchange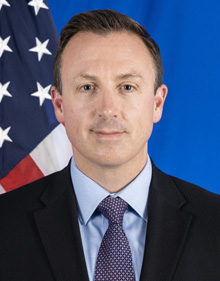 Mark Howard leads the Private Sector Exchange's Office of Program Administration which is responsible for the monitoring of Exchange Visitor Program sponsors to ensure full compliance with established Department policy and statutory and regulatory requirements to ensure exchange visitor health, safety, and welfare.

Prior to his current position, Mr. Howard oversaw exchanges through the Fulbright Program, the flagship international educational exchange program sponsored by the U.S. government, and concurrently directed two Department-designated exchange visitor programs including an international training program for environmental leaders and an academic exchange program for university research scholars and professors.

He has traveled, lived, and/or worked in more than 30 countries including two years as a U.S. Peace Corps Volunteer in the Philippines. Mr. Howard speaks Filipino (Tagalog).