Posted on Monday, August 11th, 2014 at 12:51 pm.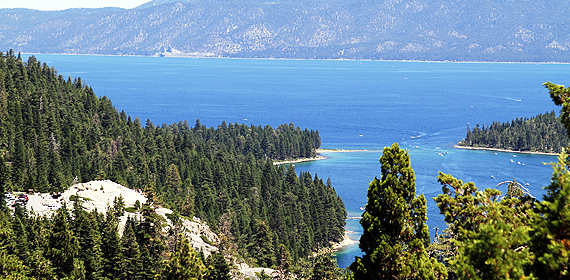 My last stop on the second leg of Route J-1 was Lake Tahoe, CA. Lake Tahoe is the second deepest lake in the United States and it spans both Nevada and California. Here's a fun fact: Did you know that if Lake Tahoe were poured over the state of California, it would still be 14 inches deep? Lake Tahoe's initial attraction to hearty souls was its gold and timber resources; however, it's now famous for skiing, hiking, and 274 days of sunshine each year. With this in mind, I joined a group of J-1 Summer Work Travel students for a day-long hike to Eagle Lake and Emerald Bay Beach.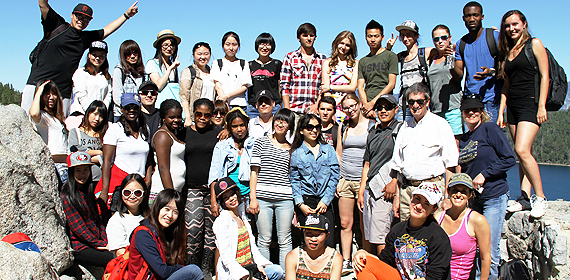 The students are a diverse group from several home countries – Jamaica, Lithuania, Moldova, China and beyond – and many of them were meeting each other for the first time. Unlike my previous stops, a few host employers were able to join us for this activity as well, so I had the privilege of observing the relationships between the hosts and their summer students firsthand. I even heard some students refer to one of the host employers as "Mom" – something she says makes her laugh. "Mom" noted that this is not only her first year on the job, but also her first real experience with international students. She has grown to love the students, and knows the importance of her role for them so she works to ensure they feel cared for and comfortable expressing their feelings. "Mom" said one of her favorite experiences this summer was taking a group of students from China to lunch at a Thai restaurant. It was their first time eating Thai food, and they loved it!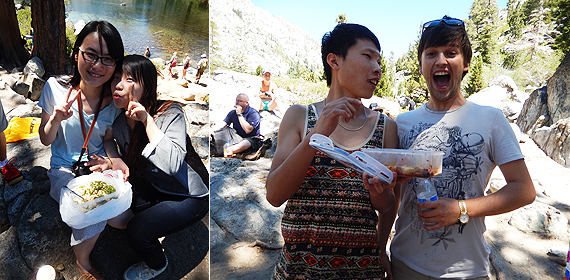 Speaking of food, we all sat together for lunch when we reached Emerald Lake. This became my favorite experience on the hike. It has long been known that food not only nourishes the body, but can also serve as a uniting force to connect individuals. This was truly evident during our lunch. As soon as we were settled to eat, a heavenly aroma enveloped us as the Chinese students opened their delicious-smelling home-cooked meals. The rest of us had taken the lazy route with store-bought snacks so we became intrigued by the scent. Soon enough, the Chinese students were sharing and everyone began tasting, laughing, taking photos, and talking about getting together over the summer. The whole event was such a natural ice-breaker – the role of food in bringing people together is undeniable! These kinds of organic moments that connect people from all over the world abound in J-1 Exchanges and are the very essence of this program!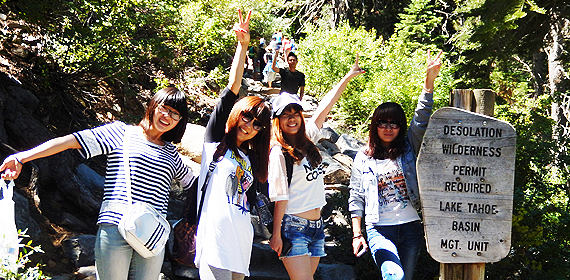 Categories: Employers, Participants, Program Spotlight


About Rebecca Pasini
Deputy Assistant Secretary for Private Sector Exchange
Rebecca A. Pasini joined the Bureau of Educational and Cultural Affairs as the Deputy Assistant Secretary for Private Sector Exchanges in July 2023. A career member of the Senior Foreign Service, Class of Minister - Counselor, Ms. Pasini has been an American diplomat since 1997.

Ms. Pasini previously served as the Director of Public and Congressional Affairs in the Bureau of Consular Affairs from 2021-2023. Other Washington assignments have included positions in the Bureau of Consular Affairs, the Bureau of Western Hemisphere Affairs, the Office of Foreign Missions, and as a liaison to the Department of Homeland Security. She has also completed multiple overseas tours, including as Minister Counselor for Consular Affairs in Islamabad, Pakistan, and as the Consular Chief in Rio de Janeiro, Brazil and Belfast, Northern Ireland. Other tours included Mexico City and Kuwait.

A Maryland native, Ms. Pasini has a Ph.D. in Political Science from Indiana University, a master's degree in National Security and Resource Strategy from the Eisenhower School, National Defense University, and an undergraduate degree from Mary Washington College.