Posted on Friday, August 1st, 2014 at 2:55 pm.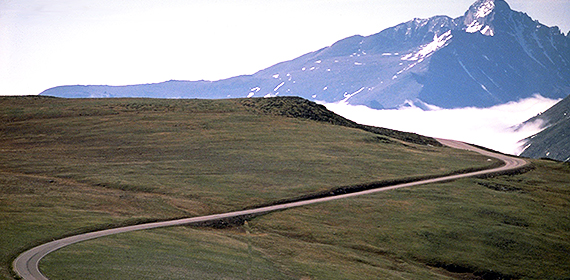 I just visited Estes Park, Colorado, a beautiful little town that is the starting point for one of the best road trips in the U.S. – Trail Ridge Road. Trail Ridge Road is the highest continuously paved road in the United States, reaching an elevation of 12,183 feet.  My Route J-1 road trip would not be complete without paying homage to this famous route, and the national park that hosts it, Rocky Mountain National Park (RMNP).
The peaks, which reach the skies, are part of the Continental Divide that starts in Canada and ends in Mexico. This international geological wonder runs right through Colorado and is a mecca for some three million outdoor enthusiasts each year.  The land has been protected for ninety-nine years by the National Park Service, who sponsors J-1 interns and trainees so it also boasts some incredible J-1 connections.
At RMNP's Beaver Meadows Visitor Center, the staff declared that the J-1 Exchange Visitor Program has been invaluable to their park's ability to create global connections around the issues of national parks and environmental preservation. The American system of national parks is so unique to this country, and yet well-known around the world. At Tatra National Park in Poland and Slovakia, RMNP works through a sister park agreement. RMNP also hosted a Slovak researcher through the J-1 program.
By hosting fellows, interns, and trainees in parks throughout the country, the National Park Service spreads its wonderful tradition of preservation while also sharing the culture of the country that developed the system. The park is preparing a celebration next year to mark its 100th anniversary and you can be certain that J-1 visitors will participate in the celebration. With all the linkages RMNP is making around the world through the J-1 program, the Continental Divide should be renamed to the Intercontinental Connector!
Categories: Employers, J-1 Visa, Participants, Program Spotlight


About G. Kevin Saba

Acting Deputy Assistant Secretary for Private Sector Exchange
G. Kevin Saba serves as Acting Deputy Assistant Secretary for Private Sector Exchange at the U.S. Department of State's Bureau of Educational and Cultural Affairs (ECA). In this capacity, he oversees the Exchange Visitor Program, which brings around 300,000 foreign citizens to the United States annually to teach, study, and build skills. He is the Director for the Policy and Program Support Division in ECA's Office of Private Sector Exchange.
Read More