Posted on Friday, October 30th, 2015 at 3:38 pm.
While everyone in New York at this time of year shares the sweet anticipation of the upcoming Halloween festivities, for more than 50,000 runners from 135 countries it also means gearing up for a different kind of sweet treat: the proud accomplishment of completing the NYC Marathon. Among the 10,000 volunteers helping out at the world's largest marathon on Sunday, you will find more than 850 of our J-1 participants. Experiencing the American tradition of volunteerism first hand, they will distribute water, cheer on athletes from their home countries, and share their cultures with their fellow volunteers and the runners.
---
Remarks by Miriam Vadria from Pakistan, J-1 masters degree student at Columbia University
[Interviewer] What are you excited for?
[Miriam] I am extremely excited about being at the New York City Marathon on Sunday, the 1st of November. Hi, I'm Miriam Vadria from Karachi,
Pakistan. I got a J-1 Visa because of a Fulbright Scholarship from Pakistan. And I'm doing a MBA degree here from SIPA at Columbia. I'll be
volunteering at the New York City Marathon the first of November. I'll be at fluid mile station 16. And I'll be handing out water to all the runners
who are going to be doing hard work! And I specifically want to wish Hamna Zubair very good luck who is running for the cause of education in Pakistan.
[upbeat background music]
Categories: J-1 Visa, Participants, Program Spotlight


Older Entries
Newer Entries
About Mark Howard
Acting Deputy Assistant Secretary for Private Sector Exchange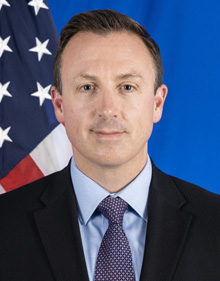 Mark Howard leads the Private Sector Exchange's Office of Program Administration which is responsible for the monitoring of Exchange Visitor Program sponsors to ensure full compliance with established Department policy and statutory and regulatory requirements to ensure exchange visitor health, safety, and welfare.

Prior to his current position, Mr. Howard oversaw exchanges through the Fulbright Program, the flagship international educational exchange program sponsored by the U.S. government, and concurrently directed two Department-designated exchange visitor programs including an international training program for environmental leaders and an academic exchange program for university research scholars and professors.

He has traveled, lived, and/or worked in more than 30 countries including two years as a U.S. Peace Corps Volunteer in the Philippines. Mr. Howard speaks Filipino (Tagalog).