Posted on Wednesday, September 28th, 2022 at 11:55 am.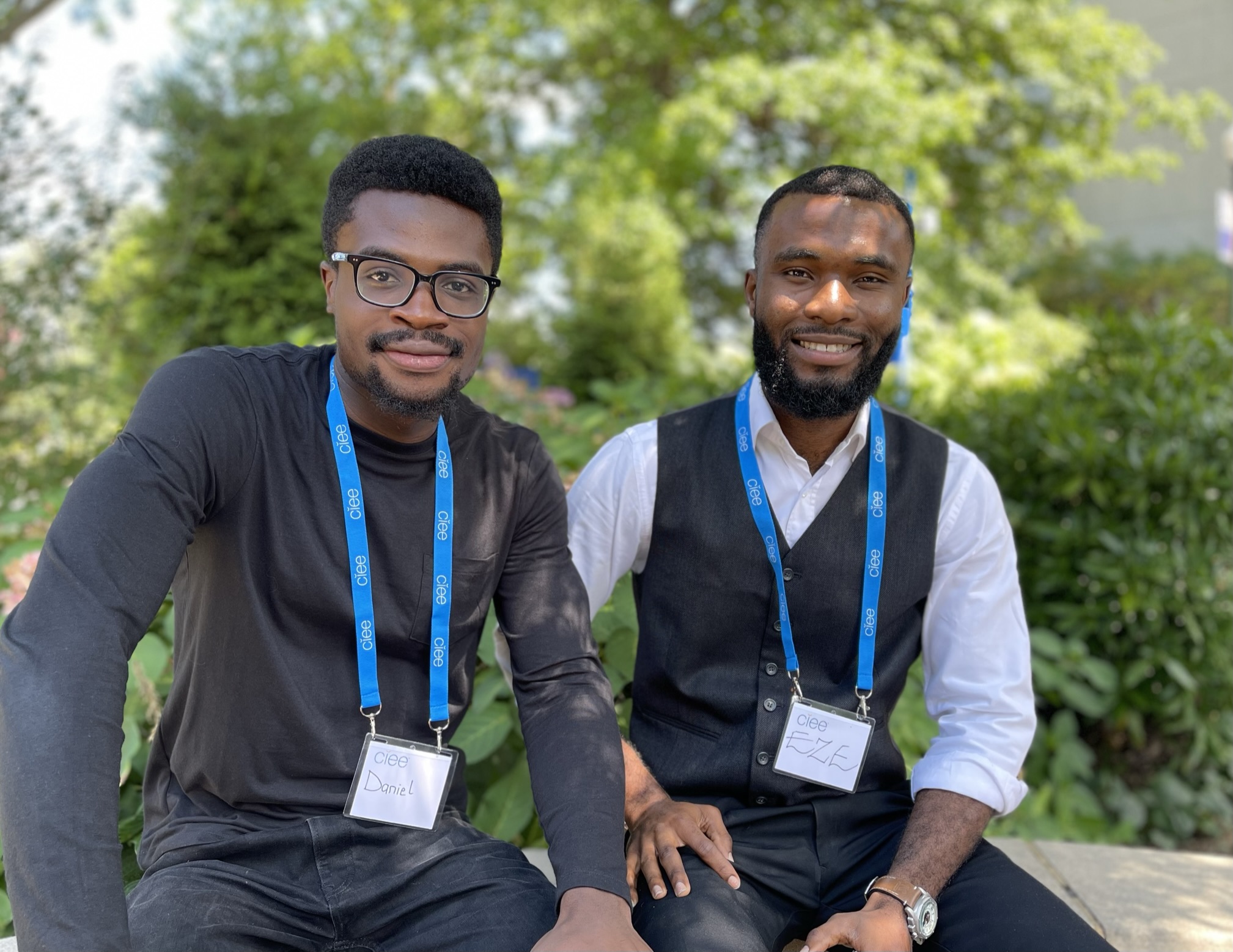 There is a Nigerian proverb that says, "The day on which one starts out is not the time to start one's preparations," but in the case of BridgeUSA exchange visitors Daniel Enebe and Samuel Eze, the day they met they unknowingly set their international exchange plans in motion.
Daniel and Samuel met on the first day of college in 2017 as engineering students in Nigeria. Daniel wasn't sure he was in the right place for the medical clearance and admittance process on campus. He turned to a fellow student and asked for directions. "He had this natural charismatic aura about him that resonated with me from our very first conversation," Daniel said about first meeting Samuel. "I believe our friendship is one for a lifetime."
Samuel always had an interest in national leadership and knew that the greatest leaders understand people from all works of life. "The U.S, through its Summer Work Travel exchange program, presents a melting pot to meet people from diverse backgrounds," he said. "Understand, learn from, impart, coexist and empathize with, as well as work alongside them."
So in 2021, Samuel found himself in Sister Bay, WI. Although he did not specifically choose the location, he found it to be a very worthwhile experience. "I really liked it," he said. "I like the calm and simple lifestyle of most Wisconsinites I came across. This year however, I got to experience the pacy, bustling culture of the East Coast in New Jersey."
The next year Samuel applied for another Summer Work Travel exchange and inspired by his friend, Daniel followed suit. "In the words of [thought leader] Lance Secretan, the world is a book and those who do not travel read only one page," Daniel said. "To further enunciate this point, I believe people are the words, ideas and impressions developed in this metaphorical book. My greatest passion is people, and I consider it a great privilege to interact with, learn from and share with people. I strongly believe the work and travel program presented an opportunity to learn – through my experiences – more about the world and about myself. Seeing things from a different perspective helped me develop a stronger worldview, while giving of myself and profiting from it in the process. Now I consider that to be a pretty sweet deal!" 
Daniel traveled to Whitefish, Mont., to work as a food and beverage assistant in an Italian restaurant called Tupelo Grill and Samuel worked in Wildwood, N.J., at the front desk at The Lotus Hotel and as a server at a Mexican restaurant in Wildwood Crest. Both of them relished the change to share their Nigerian culture with those they met. Daniel explained that Nigerian culture is vastly diverse in terms of tribal and ethnic backgrounds, but one thing connects them all: the pursuit of excellence, resilience under the most challenging of circumstances, and the audacity to stand out and stand proud wherever they find themselves. "I believe I fully represented my country, in terms of my mannerism, speech conduct and behavior," Daniel said. "From an alternative perspective, I also shared details about the Nigerian fashion, a derivative of English we speak known as 'pidgin,' some facts about Nigerian history, details about the physical and social environment, and the general Nigerian milieu and zeitgeist."
Samuel said, "I shared my language and the Nigerian Lingua Franca with my colleagues at work at every given chance, as I have come to know the U.S. as a place where curiosity thrives and liberty is the order of the day." He also considered the differences between Wisconsin and New Jersey. "New Jersey is certainly on a whole different frequency from Wisconsin, much higher cost of living. The work ethics are the same, but the people are different–direct. By and large, the experiences and connections that this program provides are very invaluable and I would encourage as many persons as have the opportunity and resources to engage it."
Since this was Daniel's first exchange in the U.S. he had some degree of culture shock. "My initial impression of America came absolutely from Hollywood, which in some ways were accurate but in other ways, grossly erroneous," he said. "Having a first-hand experience opened my eyes to realize that no matter who you are or where you come from – your race, age, class, orientation, national identity, preferences, etc., it will always boil down to the content of the mind and the heart when people are involved. I was accepted, included and treated fairly, even though I was initially painted horrifying pictures about racism most especially – a reality for others that I would not discredit based on my personal experience. This has given me an even more liberal mindset about people. I choose to be even more deliberate about treating everyone with respect, kindness and compassion, and to be inclusive, fair and accepting in any circumstance of life I find myself in. I admired how there wasn't necessarily definitive lines in terms of age or class amongst people. I also admired the family dynamics, personal and professional relationships and most especially, the work culture of the American people. One thing I found off putting was the high consumer behavior of people, which was rather strange and something I considered as being wasteful. I would definitely recommend the program to my family and friends."
In August, the two friends were both selected for and able to meet up in Washington, D.C., at the Leadership Development Program, a Department of State-funded seminar that focuses on building a global network of like-minded individuals committed to creating positive change in their communities. Class topics included countering disinformation, storytelling, and intercultural training. The opportunity energized them both. Samuel said, "I want to be an effective leader, and so I am drawn to any and everything that promises to bring me a step closer to that aspiration." The discussions that resonated with him involved the management of people, cooperation, compromise, and proactiveness.
Daniel learned that leadership does not require an elaborate title, but stems from integrity. "I learned that embracing our differences makes us stronger. I also learned that it is possible to accept something you do not absolutely understand when you learn to lead with compassion, and that maturity is finding the balance between courage and consideration. Finding the courage to express ourselves, be vulnerable, authentic, true…and being considerate enough to let others do the same," he said.
At the conclusion of their Summer Work Travel experiences, they both planned to see more of the U.S. Daniel traveled to New York City to "take a bite of the big apple" and explore the modern architecture through the eyes of a future civil engineer, as well as the social dynamics of a big city. Samuel plans to visit Pennsylvania to meet with potential export clients for some of the gemstones he plans to export from Nigeria. 
BridgeUSA exchange visitors display strong initiative, drive, ambition, and attention to detail just to achieve their J-1 visa, and many go on to make positive impacts in their home countries. These two friends are no exception. Samuel seeks to continue his studies in the U.S. or Canada in the area of business administration and management, and establish a world-renowned commodities export enterprise. "I want to be a voice of liberation in my generation through non-profit initiatives that alleviate poverty and go into national service," he said.
Equally ambitious, Daniel is following his own path of humanitarianism. "Immediately upon my return home, I graduate and start a new job working at a non-profit focused on providing healthcare to children in remote and impoverished parts of the country," he said. "In the long run, I plan to further my studies in environmental engineering and project management in the U.S., with the intent of practicing as a professional engineer and consultant in Nigeria. Although I do not know what direction my life would go, I remain optimistic and try to be the best I can be in all I can do." He is also looking forward to getting accepted into the Mandela-Washington fellowship for Young African Leaders.
For more information about the Leadership Development program, please visit: https://bit.ly/3dNKC9R. 
Categories: Participants, Program Spotlight


About Karen Ward
Acting Deputy Assistant Secretary for Private Sector Exchange
Karen Ward has been with the Department of State and the Exchange Visitor Program for over thirty years. Karen joined Private Sector Exchange as the Director of the Office of Private Sector Exchange Designation in December 2014. She previously had worked on all aspects of the Exchange Visitor Program, including program analyst for the secondary school student, teacher, post-secondary student, research scholar, trainee and intern categories and served as the Division Chief of the Private Sector Programs Division for three years. She spent three years as a Policy Analyst and a Senior Compliance Office within the Office of Exchange Coordination and Compliance. She has extensive knowledge on program management, the regulatory process, form development, and SEVIS administration.

Karen, a native of Maryland, is a career federal civil servant with more than 30 years of service, working mostly in the areas of international exchanges and operation management. She enjoys mentoring and volunteering in her community.