Posted on Wednesday, January 8th, 2020 at 5:02 pm.
By Katelynn Ziegler-Hall, Cultural Vistas
A version of this story was original published on Cultural Vistas Blog
In September 2017, Dalia and Sham began their semester long internships with Gensler, a global design and architecture firm in Washington D.C. This experience not only laid a strong foundation for their future career success, but also allowed them to forge lifelong friendships in their American host community.
Dalia and Shams took this unique opportunity to live with local host parents, Tom and Jeanne Clarkson. The six weeks they spent together would enrich their U.S. experience. Dalia, Shams, Tom, and Jeanne came together around the dinner table, enjoying both American and Middle Eastern home-cooked meals and nightly conversations about culture, family, current events, and daily highlights.
"Some nights we spent hours looking through photo albums and talking about life and family," said Shams. "It was so nice. We grew to love them and will keep in touch forever."
Together they took trips to experience the work of famous architect Frank Lloyd Wright – including Pope-Leighey House in Alexandria and Fallingwater in Pennsylvania. They also went on regular outings to the movies and to shop around the Greater DC area.
Living with Tom and Jeanne exposed the young architects to the intimate details of daily American life, including what it's like to live alongside the family dog (Finn), who Dalia befriended after some initial fear.
It was an experience neither the Clarksons nor the young ladies will forget.
"We hadn't realized how close we had become in the six short weeks we stayed together," said Tom, recounting their teary airport sendoff. "They were truly part of the family. That is what made the experience so rewarding. If you have the time and the means to be a host, you will gain sons and daughters whom you will remember, and who will remember you for the rest of your lives."
A Lasting Impact
Dalia and Shams' time in the States was brief, but its impact on their personal and professional lives will be lasting.
"I always dreamed of visiting the U.S.," said Shams. "I had experienced it through stories from friends and movies. Now, I can say I have experienced it through my own eyes."
The talented young architects returned to Baghdad at the end of 2017 with sharpened design skills, a newfound confidence, and joint aspirations to start an architecture practice focused on rebuilding their country.
Categories: J-1 Visa, Participants, Program Spotlight


About Mark Howard
Acting Deputy Assistant Secretary for Private Sector Exchange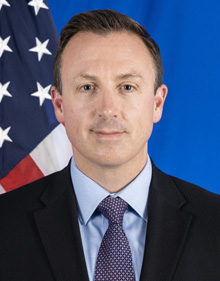 Mark Howard leads the Private Sector Exchange's Office of Program Administration which is responsible for the monitoring of Exchange Visitor Program sponsors to ensure full compliance with established Department policy and statutory and regulatory requirements to ensure exchange visitor health, safety, and welfare.

Prior to his current position, Mr. Howard oversaw exchanges through the Fulbright Program, the flagship international educational exchange program sponsored by the U.S. government, and concurrently directed two Department-designated exchange visitor programs including an international training program for environmental leaders and an academic exchange program for university research scholars and professors.

He has traveled, lived, and/or worked in more than 30 countries including two years as a U.S. Peace Corps Volunteer in the Philippines. Mr. Howard speaks Filipino (Tagalog).