Posted on Wednesday, June 5th, 2019 at 6:07 pm.
By Tebogo Serepong, Trainee from South Africa
When I left South Africa to begin my cultural exchange program in the United States, not only did I get a new physical address, I figuratively also acquired an address which has endearingly placed me outside of my comfort zone. I have made new friends and colleagues and linked up with some old ones, all while discovering and becoming a distinct version of myself. Personal growth has been coupled with tremendous professional development as my career as a Chartered Accountant keeps evolving and being constructively challenged through experience first obtained in California and now Washington, D.C.
My time living in the States has also been filled with truly remarkable life changing opportunities. One of which was awarded by my sponsor, J-1 Visa Exchange, who nominated me to attend the Global Pathfinder Summit (GPS). A five-day summit for leadership development and global networking, designed to equip its delegates with the strategies, perspectives, and tools necessary to create sustainable change in their local and global communities through vital topics like the impact of youth movements on global challenges, civic engagement, and the state of global democracy in modern day society.
The GPS created a platform that enabled me to actively engage with 150 emerging leaders, from various industry backgrounds and from over 50 different countries; it expanded my view of the world while connecting me to it. All the delegates and presenters had inimitable stories to share from the experiences attained in the paths that they had traveled, which I have learnt from and will cherishingly take with me as I continue my journey.
Both the Exchange Visitor Program along with the GPS have made me a more robust Global Citizen, they have expanded my network and helped me build a home away from home, not just in the United States, but also in places around the world that I have never travelled to through all the phenomenal people that I have met. Countries and flags I had previously only seen on maps, television or in news headlines have become familiar places where great friends, who I have shared the most joyful memories with, live.
Categories: J-1 Visa, Participants


About Mark Howard
Acting Deputy Assistant Secretary for Private Sector Exchange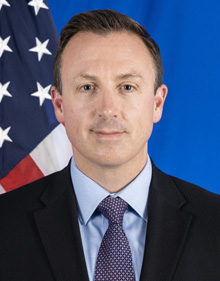 Mark Howard leads the Private Sector Exchange's Office of Program Administration which is responsible for the monitoring of Exchange Visitor Program sponsors to ensure full compliance with established Department policy and statutory and regulatory requirements to ensure exchange visitor health, safety, and welfare.

Prior to his current position, Mr. Howard oversaw exchanges through the Fulbright Program, the flagship international educational exchange program sponsored by the U.S. government, and concurrently directed two Department-designated exchange visitor programs including an international training program for environmental leaders and an academic exchange program for university research scholars and professors.

He has traveled, lived, and/or worked in more than 30 countries including two years as a U.S. Peace Corps Volunteer in the Philippines. Mr. Howard speaks Filipino (Tagalog).