Posted on Thursday, October 15th, 2020 at 4:07 pm.
By Emilija Buividavičiūtė, Summer Work Travel Alumni, Lithuania
Volunteering is always an exciting and valuable experience, especially when it comes to sports-related events. As Exchange Visitor Program participants, we never say no to any new opportunities. That is why when the U.S. Embassy in Lithuania invited us to volunteer in the Danske Bank Vilnius Marathon, we were very happy to help out and make our contribution as valuable as possible. It was a great opportunity to be part of one of the biggest sports event in the Baltics, to meet new people, and, of course, to have a fun and fulfilling weekend.
Our task was not complicated – we staffed fluid stations along the race course handing out water to runners. There were 15 of us, as we call ourselves, "bookmen" and "bookgirls," volunteering at three different fluid stations alongside 30 other J1 alumni. We were enthusiastic and energetic in order to create the best atmosphere around us for the people in the event. We motivated the runners as they passed by our stations, for example, asking them to spill water on them so the photographers could take great pictures of them. Together with other volunteers we were trying to make this challenging marathon run more satisfying and enjoyable for the runners. It was a fun and rewarding experience!
It was also very satisfying to get to meet U.S. Embassy staff and other J1 alumni. One of the best parts of interacting with other volunteers was to find out about other educational and cultural exchange programs, for example, FLEX for high school students, which made me wish I was back in high school and could attend such a program myself.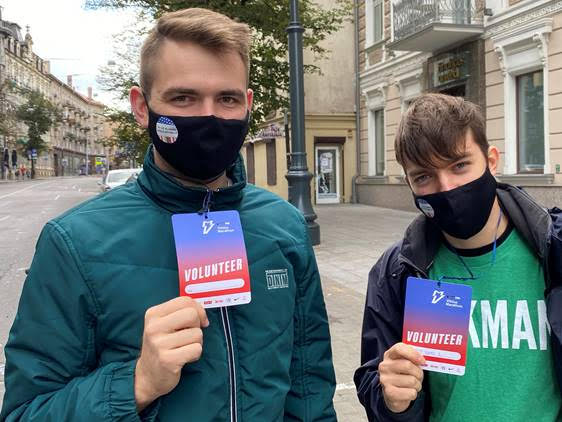 Another amazing surprise was to meet members of the Lithuanian Paralympic Committee and medal winning Lithuanian athletes, as well as learning about disability sports. I felt grateful afterwards for the chance to learn from these experiences: it never occurred to me that misfortunes in life can lead to personal growth and new opportunities. We even got to see and touch the medals from the Rio Paralympic Games in 2016 and the ball of goalball, a sport for athletes with a vision impairment.
Finally, I enjoyed learning more about the J1 US Alumni Association. I hope it will grow and unite the amplitude of those wonderful experiences that we, students, had a chance to live during our exchange programs in the USA.
Categories: Participants, Program Spotlight


About Nicole Elkon

Deputy Assistant Secretary for Private Sector Exchange
Nicole Elkon joined the Bureau of Educational and Cultural Affairs as Deputy Assistant Secretary for Private Sector Exchange in September 2021. Until June 2021, Ms. Elkon was the Chief Operating Officer (COO) of Human Rights First, an independent advocacy organization focused on human rights and the rule of law. Prior to her position as COO, Ms. Elkon was a Senior Advisor at Results for America (RFA), a non-profit organization focused on advancing data-driven, evidence based public policy at all levels of government. She also served as Chief of Staff to the Assistant Secretary of ECA and was Director of the Office of Public Private Partnerships at ECA working to leverage strategic partnerships to enhance Administration foreign policy priorities.
Read More