Posted on Thursday, March 24th, 2016 at 2:22 pm.
The State Department is serious about relationship building with our exchange participants. That's why we support alumni networks around the world. Recently, many of our embassies have increased efforts to engage participants from J-1 privately-funded jexchanges, so that the investment participants have made in their futures can be leveraged through association with other participants. We are excited to include these participants in our long-term alumni networks and outreach, and have seen much interest from participants to stay in touch with our embassies overseas.

Today, I'd like to share a successful alumni engagement effort by the U.S. Embassy in Bratislava, Slovakia. Here's how they are engaging with J-1 participants and alumni.
Each year for the past five years, the U.S. ambassador in Slovakia has donned his apron and white hat, grabbed his tongs, and manned the grill to host a Summer Work Travel (SWT) Barbeque (BBQ) for J-1 departing participants. Okay, so he gets some help from the local Marines too. And what is more American than that? The embassy hosts the BBQ in May, before the participants head out on program, and they use the opportunity to gear participants up for the SWT Photo Contest. The fun event includes outgoing participants and alumni, and a display of the 20 best photos from the past year.
The photos are submitted by SWT participants during their travels in the United States. The contest is administered on the Embassy's Facebook page each year, and the winning photo is selected based on the total number of likes. In 2015, this contest reached 340,000 people – making it the Embassy's most successful Facebook post of the year – and the winning photograph received over 6,500 likes.  The entire event is a wonderful opportunity to socialize, introduces participants to embassy staff, and have fun. Everyone gets to know one other, and, we hope, stay in touch.
This is just one of many examples of how U.S. Embassy staff continue to foster strong relationships with exchange program alumni when they return to their home countries.
You can share your favorite alumni engagement event or activity using #RouteJ1
Categories: J-1 Visa, Participants, Program Spotlight


About Mark Howard
Acting Deputy Assistant Secretary for Private Sector Exchange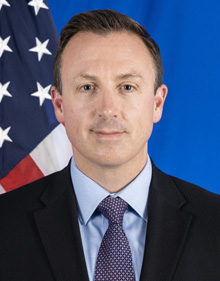 Mark Howard leads the Private Sector Exchange's Office of Program Administration which is responsible for the monitoring of Exchange Visitor Program sponsors to ensure full compliance with established Department policy and statutory and regulatory requirements to ensure exchange visitor health, safety, and welfare.

Prior to his current position, Mr. Howard oversaw exchanges through the Fulbright Program, the flagship international educational exchange program sponsored by the U.S. government, and concurrently directed two Department-designated exchange visitor programs including an international training program for environmental leaders and an academic exchange program for university research scholars and professors.

He has traveled, lived, and/or worked in more than 30 countries including two years as a U.S. Peace Corps Volunteer in the Philippines. Mr. Howard speaks Filipino (Tagalog).