Posted on Tuesday, July 21st, 2015 at 3:32 pm.
Last week, my colleague Grace Cho joined me for a visit to the Shenandoah National Park and wrote about our visit below. Happy reading!
Shenandoah National Park is a truly breathtaking terrain nestled in the heart of the Virginia Appalachians.  Established in 1935, it welcomes approximately 1.2 million visitors annually, who come to explore its mountain landscape, lush forests, and waterfalls.
Travelers journey from the world over to find refreshment – and quaint and rustic lodging – at Shenandoah's Skyland Resort and Big Meadows Lodge. Some of those world travelers are J-1 Interns and Summer Work Travel participants.  Last week, DAS Lerner and I drove out to meet J-1s and their host employer, Pam Wightman.
"Hosting J-1s is a huge privilege; I love them. They bring an added value to the Shenandoah resorts.  I see in them an eagerness to learn, work hard, and to be positive," said Pam.
And, they excel.  Pam says that she makes an extra effort, knowing they are here to learn and that they have journeyed far.  She makes every effort to provide transportation for enriching cultural and educational opportunities, as well as shopping.  Her robust calendar of events includes whitewater rafting, visits to nearby Luray Caverns, a day trip to Washington D.C., a multicultural picnic with J-1 students and American staff, and tickets to a Baltimore Orioles baseball game – with premium seats and a chauffeured limousine service, round trip!
Pam has heard from her sponsors and the State Department that safety and making participants feel comfortable is a top priority, and she takes that seriously.  This past February, on Chinese New Year, Pam's J-1 students from China felt nostalgic and sad about being away from their families.  So, she took them shopping for groceries and invited them to her home to cook and prepare traditional Chinese food to share with Pam's family and their neighbors.  The pictures show how special that night was – for all of them.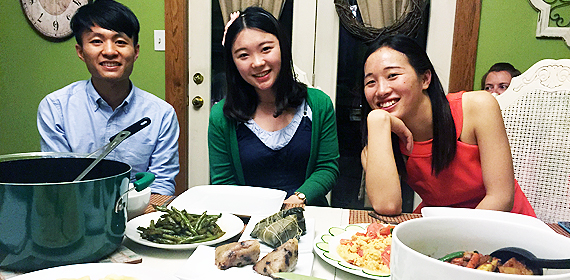 Pam said that while she has never traveled outside the United States, the J-1s bring the world to her, the staff, and guests at Shenandoah each year.  This year's group hails from eight countries and three continents—France, Turkey, Ukraine, Russia, Jordan, China, Mexico, and Poland.  If Pam decides to get a passport, she has no shortage of places to stay!
Categories: J-1 Visa, Participants, Program Spotlight


About G. Kevin Saba

Acting Deputy Assistant Secretary for Private Sector Exchange
G. Kevin Saba serves as Acting Deputy Assistant Secretary for Private Sector Exchange at the U.S. Department of State's Bureau of Educational and Cultural Affairs (ECA). In this capacity, he oversees the Exchange Visitor Program, which brings around 300,000 foreign citizens to the United States annually to teach, study, and build skills. He is the Director for the Policy and Program Support Division in ECA's Office of Private Sector Exchange.
Read More