Posted on Thursday, February 18th, 2016 at 9:21 pm.
"International exchanges – especially those for young people taking the first steps of their professional lives – are strong and life changing experiences. It's important to keep the international connections you make during an exchange alive because they have a powerful impact on your life, as well as others. Let's face it, at the heart of it, international exchanges are about the relationships you make and maintain."
This is one of the messages that I emphasized during my keynote address at the 69th annual International Association for the Exchange of Students for Technical Experience (IAESTE) Conference in Prague. IAESTE is an independent, non-profit, and non-political student exchange organization that provides students pursuing technical degrees (primarily science, engineering and the applied arts) with paid, course-related, training abroad.
While IAESTE internships aim to build participants' professional skills, the cultural component – bringing people together and fostering intercultural learning and understanding – is just as essential. To demonstrate this point, I'd like to share a story about the great friendship that developed between my colleague, Darra Klein, and her lifelong friend, David Čeljuska, as the result of an IAESTE international exchange. Here's their story:
In 2001 David was an IAESTE Trainee in the U.S. through the Exchange Visitor Program. David is Slovak and now lives in the Czech Republic.  David was very young when he came to the United States for his yearlong exchange program, not just in age, but in terms of life experience.  He was far from home, and he experienced some culture shock as he tried to navigate his new life in the United States.
When he met Darra, they became fast friends, so much so that David came home with Darra to visit her family for weekends and holidays. They attended the annual Cherry Blossom festival in Washington, D.C. and visited Carnegie Mellon University in Pittsburgh, Pennsylvania, one of the schools David was considering for his master's degree program. They even attended a Slovak festival in Baltimore, Maryland, where Darra learned more about Slovak culture and heritage.
Darra also went to visit David and his family in Eastern Slovakia, where she experienced the life of a local, went on a road trip to Poland, and even visited an English class at the elementary school where David's mom is the principal. Darra spoke to the class in English and gave a short presentation about the United States. Darra has been to Prague numerous times to visit David, most recently in 2013 for his wedding.
If it were not for IAESTE, Darra and David would have never formed this amazing friendship and had the rich cultural experiences it afforded them. Darra says, "I'm sure I never would have visited Eastern Slovakia were it not for David!" Thanks to the strong relationship they built, David and Darra will continue to take part in intercultural learning and have culturally enriching experiences.
Today, I challenge you to serve as a cultural ambassador in your local community by bringing people together and fostering intercultural learning and understanding. See for yourself. The positive results are endless.
Categories: J-1 Visa, Participants, Program Spotlight


About Mark Howard
Acting Deputy Assistant Secretary for Private Sector Exchange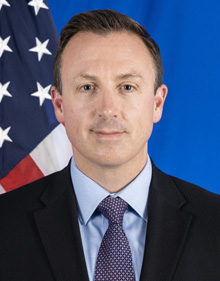 Mark Howard leads the Private Sector Exchange's Office of Program Administration which is responsible for the monitoring of Exchange Visitor Program sponsors to ensure full compliance with established Department policy and statutory and regulatory requirements to ensure exchange visitor health, safety, and welfare.

Prior to his current position, Mr. Howard oversaw exchanges through the Fulbright Program, the flagship international educational exchange program sponsored by the U.S. government, and concurrently directed two Department-designated exchange visitor programs including an international training program for environmental leaders and an academic exchange program for university research scholars and professors.

He has traveled, lived, and/or worked in more than 30 countries including two years as a U.S. Peace Corps Volunteer in the Philippines. Mr. Howard speaks Filipino (Tagalog).