Posted on Thursday, August 21st, 2014 at 4:00 pm.
In this post, my colleague, Jennifer Nupp, shares her experience during a recent visit to Fairfax, Virginia.
J-Day is a day when J-1 visa participants come together in their communities around the U.S. to celebrate and share cultural diversity and American customs.  In commemoration of J-Day, the sponsor this August hosted its sixth annual "Lifeguard Olympics" held at the Brandywine Swim Club in Fairfax, Virginia, a suburb of Washington, DC.  The sponsor hosts this popular event near the end of the summer season for student J-visa holders working as lifeguards in the Washington metropolitan area as a thank you to these exchange visitors and local employees for all their hard work.
This year's event began in the wee hours of the morning at 5:00 a.m.  The 210 exchange visitors at this highly competitive "Olympics," currently work as lifeguards through the J-1 Summer Work Travel program and represented eleven countries: Ukraine, Poland, Moldova, Turkey, Slovakia, the Czech Republic, Bulgaria, Mauritius, the United Kingdom, Serbia, and Macedonia.  Many of the participants proudly donned the J-DAY logo on their t-shirts on this very special occasion.
Since it was still dark when the competition began, the participants wore glow stick jewelry to illuminate themselves.  There were team events, a very exciting brick treading-water challenge for individual competitors, and the supervisor boat race on little rafts that seemed to have minds of their own.
The exchange visitors also used this opportunity to give back to the community and brought canned and boxed goods to donate to the Capital Area Food Bank.  Some of the foods were from the visitors' home countries!  A total of 833 pounds of food were collected and donated to Food Bank representatives who posed with all of the exchange visitors.
At the conclusion of the event, the sponsor and host employer presented medals to the participants, some of whom celebrated in style by wearing attire from their home countries.  Fairfax Fire & Rescue staff was also present at the event and, at the conclusion, drove away in a blaze of sirens to the delight of the participants, who cheered and waved.
Categories: Participants, Program Spotlight


About Mark Howard
Acting Deputy Assistant Secretary for Private Sector Exchange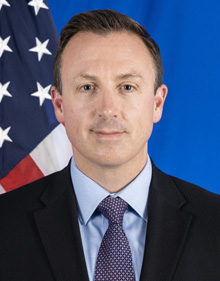 Mark Howard leads the Private Sector Exchange's Office of Program Administration which is responsible for the monitoring of Exchange Visitor Program sponsors to ensure full compliance with established Department policy and statutory and regulatory requirements to ensure exchange visitor health, safety, and welfare.

Prior to his current position, Mr. Howard oversaw exchanges through the Fulbright Program, the flagship international educational exchange program sponsored by the U.S. government, and concurrently directed two Department-designated exchange visitor programs including an international training program for environmental leaders and an academic exchange program for university research scholars and professors.

He has traveled, lived, and/or worked in more than 30 countries including two years as a U.S. Peace Corps Volunteer in the Philippines. Mr. Howard speaks Filipino (Tagalog).