Posted on Wednesday, September 6th, 2017 at 6:14 pm.
By Avery Benza, Human Resources & Recruitment Manager, American Hospitality Academy (AHA)
Throughout the summer,  J-1participants have been busy volunteering in their local communities. From food banks, to clean ups, to helping the homeless, our participants have been making a big impact in their communities.
Pamela Silva  [J-1 Trainee, Mexico] volunteered at the Kansas Food Bank. "It was incredible to see all that food donated for special causes. I decided to participate just to give back to America a few of what this country has done for me. It is really an amazing experience that I will do again for sure."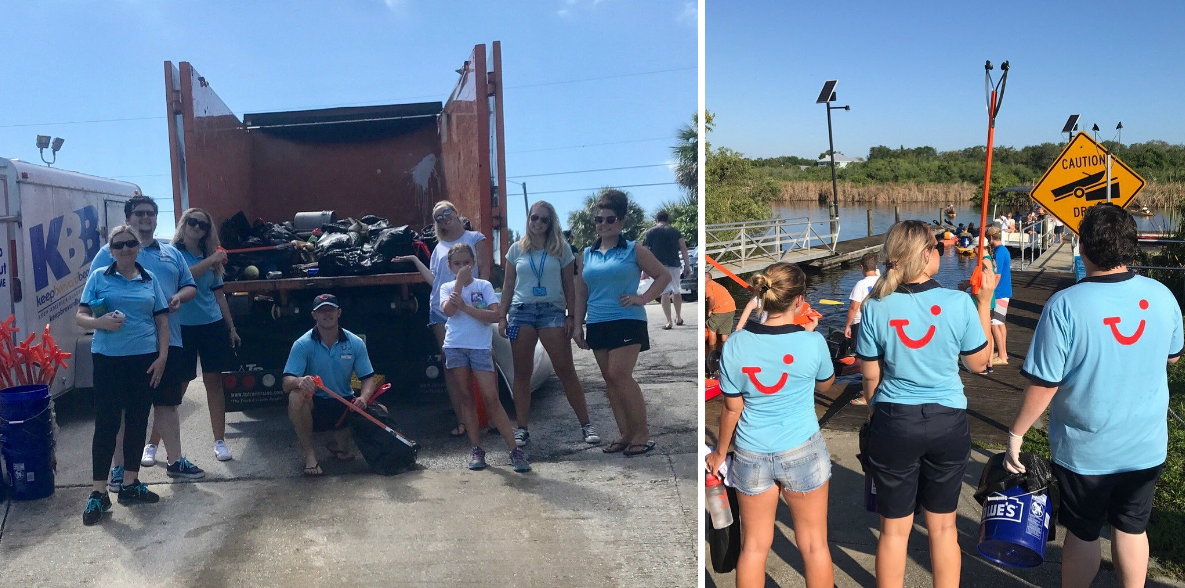 Ryan Hargreaves [J-1 Trainee, United Kingdom], Jenna Craven [J-1 Trainee, United Kingdom], Danielle Hawkings [J-1 Trainee, United Kingdom], and Marlou Bokdam [J-1 Trainee, Netherlands] went to Goode Park and Turkey Creek to help with a sustainability project run by Keep Brevard Beautiful. There were over 130 volunteers. Ryan said, "We helped to collect almost a ton of trash from the park and the creek whilst kayaking up and down the waters. The event was captured by Florida Today in both its newspaper and webpage."
German Gochev [J-1 SWT, Bulgaria] volunteered for the annual Vail Mountain Clean-up. "I volunteered because the local community heavily incorporates eco and  green styles of living and thinking into their lives. It was amazing to watch a small village do so much for the local environment and is still searching for more ways to preserve and help the nature around it. The mountain, the animals, and the way people live in harmony with them motivated me to sign up and continue with every activity I can to help preserve nature as it is – beautiful!"
Samantha Roe [ J-1 Intern, United Kingdom]  and Leonardo Jose Silva De Jesus [ J-1 Intern, Brazil] volunteered on a construction site, assisting in building a house for a disadvantaged family through Habitat for Humanity. Samantha said, "It was a humbling and eye opening experience that will stay with me for life. To help provide an actual home for a stranger is a feeling nobody can describe. It was extremely hard work, not just with the heat but attempting to master building work; I never thought I would be able to put up walls and actually create something."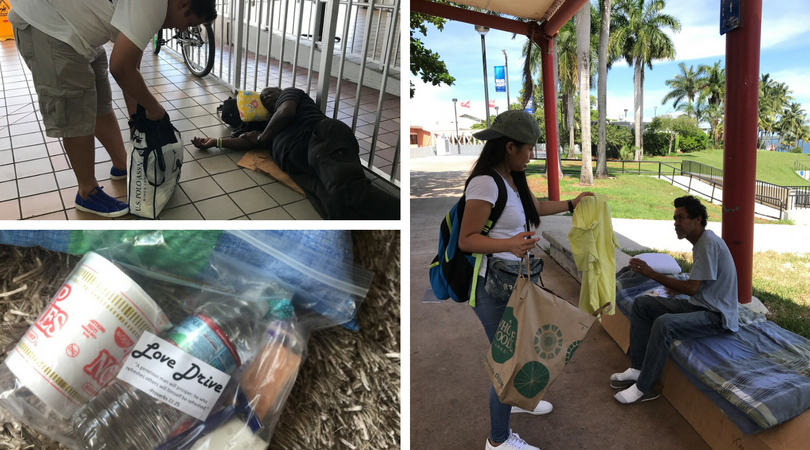 Kreesha Deza [J-1 Intern, Philippines], Kristel Angelique Tigas [J-1 Intern, Philippines], Jan Michael Ng [J-1 Intern, Philippines], and John Marlowe Tano [J-1 Intern, Philippines] created their own Love Drive. They donated pillows filled with clothing, water, food, soap, and other basic necessities to the homeless in their community. Kreesha says, "It was fun and exciting to share our blessings with other people who are in need, listening to their stories, and just seeing their smiles are enough for us."

Johara Marie Maningo [J-1 Intern, Philippines] , Regine Obenza [J-1 Intern, Philippines] , Jessa Berdon [J-1 Intern, Philippines] and Winrich Baclay [J-1 Intern, Philippines] participated in Relay for Life, a community based fundraising event of the American Cancer Society.. Johara said, "It was a great experience because we showed our support to those who survived, and to those who are still continuing the fight. It's not about only the experience, but also to encourage those people that there is still hope. They're not fighting alone, We're with them."
Categories: Program Spotlight


About G. Kevin Saba

Acting Deputy Assistant Secretary for Private Sector Exchange
G. Kevin Saba serves as Acting Deputy Assistant Secretary for Private Sector Exchange at the U.S. Department of State's Bureau of Educational and Cultural Affairs (ECA). In this capacity, he oversees the Exchange Visitor Program, which brings around 300,000 foreign citizens to the United States annually to teach, study, and build skills. He is the Director for the Policy and Program Support Division in ECA's Office of Private Sector Exchange.
Read More