Posted on Thursday, September 22nd, 2016 at 9:29 pm.
By Kate Verey, CIEE Senior Director of Work & Travel USA
This August a select group of 62 students from the Summer Work Travel (SWT) program gathered at American University in Washington, D.C. for the CIEE Civic Leadership Summit, a three-day event that brings together passionate, young leaders from around the world for a dynamic exchange on leadership, social entrepreneurship, and cultural understanding. This group of Fellows represented 33 countries from three different designated J-1 sponsor organizations (CENET, Spirit and CIEE).
A highlight of the Summit was a daylong workshop called the 'Be a Changemaker Challenge' led by Ashoka's Youth Venture, an organization that inspires and supports teams of young people to launch and lead their own community benefiting initiatives. During the Challenge, Fellows identified their passions to create change for social issues, and then worked in groups to develop plans for launching their own social ventures in their home countries.
Inspired by their J-1 experience and transformed into leaders following the Summit, read these first-hand accounts from the Fellows themselves.
N'Dwayne Davis of Jamaica

"You've all renewed my hope in mankind and it was a blessing to my soul to have been a part of this platform. I know I have grown personally from the short three day sessions; I believe in myself more and I am going to step out into the world in a bold fashion. The best is yet to come! Be the change." – N'Dwayne Davis of Jamaica
Grese Koca of Kosovo
"I feel very rich. Rich with knowledge for some countries that all I knew was their name, rich with new friends and rich with new contacts to develop projects with. You are all leaders and changemakers, and I can't wait to see those changes take place!" -Grese Koca of Kosovo
Alaa Elyamany of Egypt – Like Father like Son
"Inspired by his Father's international travels, Alaa shared this: 'I want to travel like you, Dad!' I said. 'You will go there one day, I promise.' he replied. 'And I'll make your dreams come true, young leader.'"- Alaa Elyamany of Egypt
Saray Quirant of Spain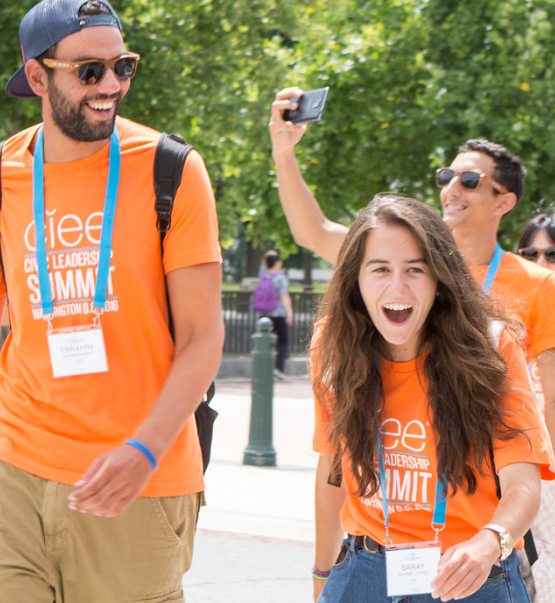 "It's impressive how three days in the correct place and with the right people can change your life. On the one hand, I've met the most amazing people ever from 33 countries. People who really touched my heart and inspired me with their lives, experiences, and reality of their countries. People I even called family in just two days. On the other hand, this experience has helped me to actually believe I can be a changemaker who this world needs. Even being from different countries we all share the same problems, and I'm sure this cannot end here. Now I'm sure there are at least 62 people looking forward to coming back to our countries and being the change we want to see in the world. I'll never forget the incredible people who empowered me to believe change is possible." – Saray Quirant of Spain
Categories: Participants, Program Spotlight


About G. Kevin Saba

Acting Deputy Assistant Secretary for Private Sector Exchange
G. Kevin Saba serves as Acting Deputy Assistant Secretary for Private Sector Exchange at the U.S. Department of State's Bureau of Educational and Cultural Affairs (ECA). In this capacity, he oversees the Exchange Visitor Program, which brings around 300,000 foreign citizens to the United States annually to teach, study, and build skills. He is the Director for the Policy and Program Support Division in ECA's Office of Private Sector Exchange.
Read More