Posted on Wednesday, July 29th, 2015 at 3:55 pm.
As I wrote from Florida, I am on the lookout for J-1s wherever I go this summer. While up in New England visiting family last week, I made my way to the iconic Mt. Washington Hotel in Bretton Woods, New Hampshire. A living history book, it opened in 1902 as a luxury summer residence for wealthy city dwellers who were carried by train almost straight to the hotel doors. Nestled in the White Mountains, it is a popular destination for hikers, as well as ghost hunters, international monetary policy wonks, and J-1 Summer Work Travelers and Trainees.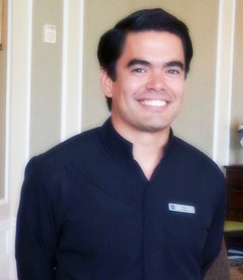 Diego Fernando López de los Ríos is a J-1 from Colombia who dreamed of studying in the United States since childhood.  With American college tuition out of reach, he studied in Paris, and interned and worked in a number of other countries. When he learned about the J-1 Trainee option, he signed right up. Even though he was already a world traveler, Diego wanted to participate in a U.S. program to perfect his English and to fulfill his dream of living in the United States.
The Mt. Washington Hotel, he says, is providing more of an experience than he anticipated. The high number of guests and the complex operation is exactly what he needed, professionally. He learns every day, and even more, he is living with an American colleague and immersing himself in White Mountains life. He even learned to snowboard over the winter – thanks to a free season pass for employees.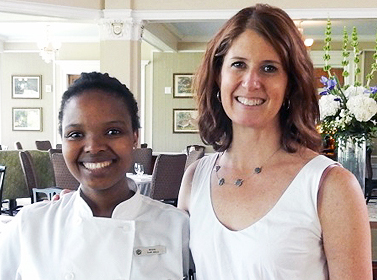 Mandy Nogwina, a 12-month Trainee from South Africa, agreed with Diego. She has, likewise, had a career-changing J-1 experience. She said her school did not have the apprenticeship resources to give her a solid professional start. A friend told her, "A J-1 program will change your life." So far, it has. She loves to cook and has learned many new skills, getting the experience she was aching for during her studies. Her English was not strong when she came, but she is very comfortable now. She thinks the mountains here are beautiful. It is a place where a person can just breathe.
Both are also gaining new perspectives, which is a huge part of the J-1 design. They have discovered the "real" United States. With stereotypes broken down, Diego sees now that Americans "don't think the way we think they do." In his words, Americans "don't judge people by the color of their skin; they don't care about your accent; they want to get to know you."  Through their new found connections to American colleagues and hotel and restaurant guests, both Diego and Mandy have engaged in meaningful conversations about Colombia and South Africa. Correcting misperceptions about his country, Diego said, has been a special gift for him.
A special gift for me during my visit was a lunch created and served by Mt. Washington's J-1 Trainee and Summer Work Travel participants. What a beautifully prepared and delicious meal. Bon appetit!
Categories: J-1 Visa, Participants, Program Spotlight


About G. Kevin Saba

Acting Deputy Assistant Secretary for Private Sector Exchange
G. Kevin Saba serves as Acting Deputy Assistant Secretary for Private Sector Exchange at the U.S. Department of State's Bureau of Educational and Cultural Affairs (ECA). In this capacity, he oversees the Exchange Visitor Program, which brings around 300,000 foreign citizens to the United States annually to teach, study, and build skills. He is the Director for the Policy and Program Support Division in ECA's Office of Private Sector Exchange.
Read More