Posted on Friday, July 11th, 2014 at 5:25 pm.
What exactly does it take to make sure 80,000 foreign university students visiting seasonal tourist spots across the country have a safe and high quality experience? For starters, a welcoming community with host employers that go the extra mile. Today, I want to spotlight two host employers in Nantucket, Massachusetts, but first let me share some nice-to-know information. According to the Nantucket Historical Association, Nantucket means "faraway island" in the language of the Wampanoag tribe who first inhabited the island. Nantucket is as quaint and charming as it is remote and rugged in places. It holds an important place in the history of Massachusetts, and of the early settlement on the east coast. Today, it is one of those special places that adorn the covers of travel magazines.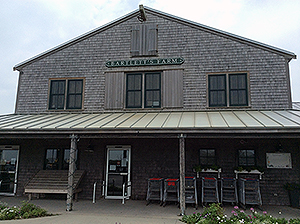 I love when J-1 students decide to live and work in Nantucket because the community welcomes them with open arms. They get such a unique picture of this country through Nantucket as well as true American hospitality. I met with folks from the Nantucket Chamber of Commerce and some folks from the local churches who all come together to plan for the summer influx of students and tourists. The island population grows from an estimated 10,000 during the winter months to an estimated 60,000 in the summer! That doesn't leave much housing available for the visiting students, but this New England community still loves having J-1 students and they take a small town approach to ensuring all elements are in place.
The photos above show employers, Dick Clifford and John Bartlett, who regularly provide jobs to J-1 summer students and housing for the students they hire. They know that the only way to have a successful summer is to provide the necessary elements for such success. They involve their staff in hosting barbeques and cookouts for the students, and discussing different schedule or job options to suit the student's educational aspirations or plans during their time off. These guys know what it takes to provide a great J1 experience — the smiles say it all! Thanks, Nantucket!
Categories: Employers


About G. Kevin Saba

Acting Deputy Assistant Secretary for Private Sector Exchange
G. Kevin Saba serves as Acting Deputy Assistant Secretary for Private Sector Exchange at the U.S. Department of State's Bureau of Educational and Cultural Affairs (ECA). In this capacity, he oversees the Exchange Visitor Program, which brings around 300,000 foreign citizens to the United States annually to teach, study, and build skills. He is the Director for the Policy and Program Support Division in ECA's Office of Private Sector Exchange.
Read More