Posted on Tuesday, July 15th, 2014 at 7:11 pm.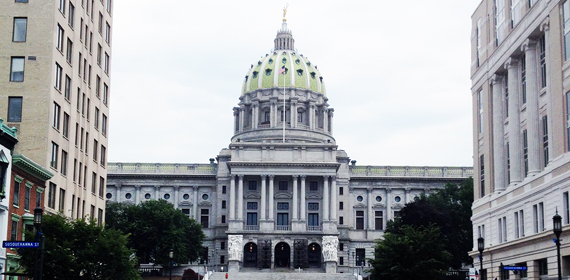 In this post, my colleague, Nicole Deaner, shares her experience after attending a cultural program in Pennsylvania over the weekend where many J1 participants visit and work.
This weekend I had the pleasure of visiting Harrisburg, Pennsylvania – a gem of a city nestled on the banks of the Susquehanna River and host to hundreds of international exchange students.  Harrisburg has a long and vibrant history of settlement and has served as a center of commerce and transportation. For centuries, it has welcomed people from many different origins and that still holds true today.
I met with international students from China, the Dominican Republic, Jamaica, Poland, Ukraine, Slovakia, Czech Republic and Colombia who are experiencing the United States for the first time at various locations throughout the greater Harrisburg area, including the world-famous Hershey Park.  Many of them are staying in the International House in downtown Harrisburg, which allows them to get a flavor for this beautiful city and its people. Working at Hershey Park also gives the students an opportunity to gain customer service skills and interact with Americans from across the United States.
On Sunday night, the students gathered together at Strawberry Square – a mall in the heart of downtown Harrisburg – to participate in volunteer activities in order to give back to the Harrisburg community.  They created get well cards for hospitalized children as part of the "Caitlin's Smiles" project.  The students also collaborated on a cross-cultural piece of art called the "Peace Wall", which is a meld of symbols representing their various home countries. It will be displayed at various locations throughout Harrisburg.  They also brought in items that symbolize their culture to display at the mall – they do this regularly at the International House so that students have the opportunity to learn about different cultures.
The whole experience is really about sharing.  The citizens of Harrisburg share their beautiful city when welcoming these international students, while the students share their culture with the citizens of Harrisburg and give back to the community by volunteering.  This is really the true spirit of international exchange.
Categories: Employers, Participants


About G. Kevin Saba

Acting Deputy Assistant Secretary for Private Sector Exchange
G. Kevin Saba serves as Acting Deputy Assistant Secretary for Private Sector Exchange at the U.S. Department of State's Bureau of Educational and Cultural Affairs (ECA). In this capacity, he oversees the Exchange Visitor Program, which brings around 300,000 foreign citizens to the United States annually to teach, study, and build skills. He is the Director for the Policy and Program Support Division in ECA's Office of Private Sector Exchange.
Read More