Posted on Wednesday, May 11th, 2022 at 1:38 pm.
By: Kristen McDonough of Cultural Care Au Pair.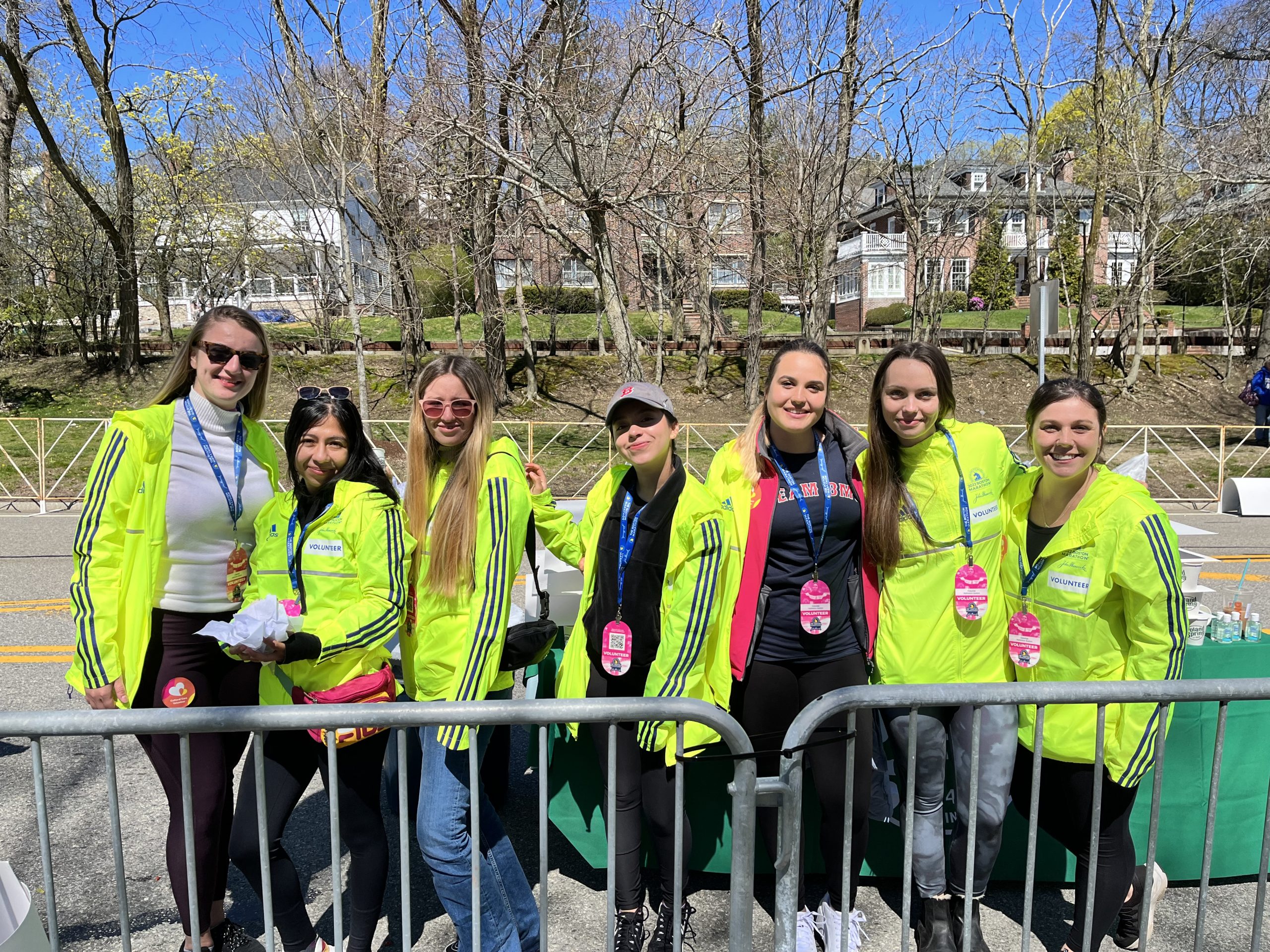 It's the kind of spring day that makes New Englanders giddy about the possibility of summer: sunny, low 50's, with a crisp breeze and warm pockets of sun. In other words, a perfect day for running. The crowds are thick, buzzing with the excitement of returning events and Boston unity.  Florescent green jackets speckle the racecourse as far as the eye can see, as throngs of volunteers prepare for their hydration and refueling duties. Green and white cups stand in formation, contents vibrating with the energy of preparation, while patiently waiting for the many hands that will soon blindly reach for them. All these things seamlessly come together to form one of the most well-known and well-loved of New England traditions: the Boston Marathon.
On April 18, 2022, 25,314 runners from 120 countries and all 50 states left the starting line in Hopkinton, MA. At the top of Heartbreak Hill, 30 au pairs from fourteen countries anxiously awaited the runners at well-stocked water and Gatorade stations. The volunteer group was comprised of au pairs from Cultural Care Au Pair who will spend their exchange year living with a host family in the United States as part of the BridgeUSA federal cultural exchange program. They came from home countries as far away as Colombia, Italy, Germany, France, Brazil, Australia, China, Mexico, South Africa, Sweden, Slovenia, Argentina, Spain, and Estonia. And they came from their US host homes all across Massachusetts as well as New Hampshire, Maine, and Rhode Island. They arrived at the Marathon as strangers; they left as friends.
The Marathon changes you in unexpected ways. It is the best parts of humanity woven together to form a moment of perfect harmony, and for one day, we are the same. Since 2015, when the U.S. Department of State invited Cultural Care au pairs to volunteer at the New York City Marathon, more than 3,500 Cultural Care au pairs from over 25 countries have volunteered at not only the NYC Marathon, but also marathons in Boston, Los Angeles, Chicago, Houston, Nashville, and the Marine Corps Marathon in Washington, D.C. Over 300 au pairs have volunteered at the Boston Marathon alone, with more than 2,200 at the NYC Marathon. Since 2016, Cultural Care Au Pair has also had a team of runners at the NYC Marathon, many of whom were host parents running with their au pairs. This year, over 700 au pairs are expected to volunteer at the NYC Marathon in November. What started as a simple volunteering idea has become one of the highlights of their year and one the au pairs will rave about throughout their entire exchange experience.
Marathon volunteers may share similar feelings of the day. But their reasons for volunteering may be very different.
For Mariana Solis from Mexico, volunteering is a way to connect to her passion at home and her future goals of joining an NGO. A lawyer in Mexico, Mariana wants to pursue a master's in supporting the human rights of children. Participating in the Cultural Care Au Pair exchange program allows her to be around children while immersed in American culture that will enrich her future educational and professional goals. For Mariana, the Boston Marathon represents historical importance as it was the first marathon where a woman ran. "The Marathon is returning like a big thing after Covid and being around the athletes—all the athletes are amazing—and being able to share time with them is awesome." Her favorite part about attending the Boston Marathon? Meeting other people from around the world.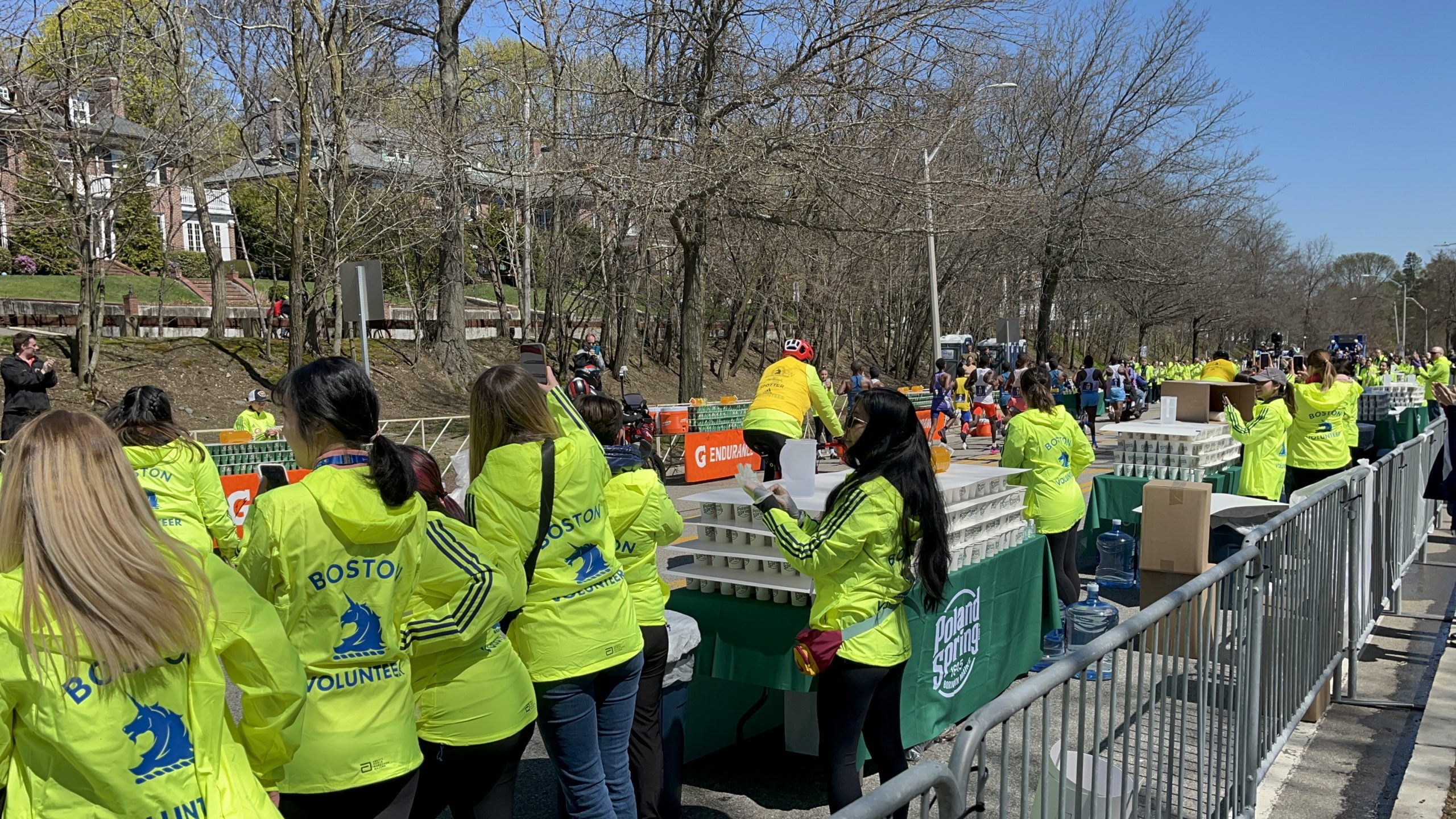 Lea Kos from Slovenia is volunteering for the Boston Marathon to support a very special runner: Her host mom, who is running for the first time. For the past nine months, Lea has lived with her host family and four children in Arlington, MA. For Lea, it is a great honor to be at the Marathon because not a lot of people are able to volunteer. The highlight of volunteering for the Boston Marathon for Lea? "Meeting all of the au pairs—they're all great—and just feeling part of the community and meeting everyone and having fun." And, of course, cheering on her host mom.
Mariana Santos, also from Mexico, has been in New Hampshire with her host family for a year and seven months. She came to the US during the pandemic through a special exception visa because her host mom is a nurse. For Mariana, the excitement of the Marathon is palpable. "Being a part of something this big—the whole state shuts down because of this—is so cool." She will remember being with all the volunteers and people from all over who come to see the runners, and when she looks back on this day, she'll tell her friends and family about the feeling of community with everyone supporting each other. Her favorite part of the day: "Meeting so many nice people and so many au pairs."
As the day goes on, Mariana, Lea, and Mariana join their new au pair friends in a jolly competition between the water handlers and the Gatorade handlers. Which will be the most chosen cup? Who will hand out the most cups? Will the runners choose their cup or another's? They try to catch the runners' eyes as they pass, feeling the determination, passion, and pain in their expressions as they near the end of the race, and they offer quick words of encouragement in several different languages. The volunteers' joyful laughter and cheers mix with the boisterous cow bells and clapping of the crowd—a further sign that we are all there together.
Eventually, the duties conclude, and the last runners come by as the au pairs pack up their stations and relish their final moments together. Green and white cups lay crumpled under their feet as reminders of the experience they just shared; the cheering, like the contents in the cups, slowly fades away. Eventually, the cups will be gone, the fences will be put away, and the crowds will disperse. The day will be over, but the memories will last forever. For no one is ever the same after the Marathon. And as for the au pairs? Their paths may or may not cross again, but they will always be connected. And one thing is for certain: we'll be back again with more volunteers for a life changing experience next year!
Categories: Participants, Program Spotlight


About Nicole Elkon

Deputy Assistant Secretary for Private Sector Exchange
Nicole Elkon joined the Bureau of Educational and Cultural Affairs as Deputy Assistant Secretary for Private Sector Exchange in September 2021. Until June 2021, Ms. Elkon was the Chief Operating Officer (COO) of Human Rights First, an independent advocacy organization focused on human rights and the rule of law. Prior to her position as COO, Ms. Elkon was a Senior Advisor at Results for America (RFA), a non-profit organization focused on advancing data-driven, evidence based public policy at all levels of government. She also served as Chief of Staff to the Assistant Secretary of ECA and was Director of the Office of Public Private Partnerships at ECA working to leverage strategic partnerships to enhance Administration foreign policy priorities.
Read More