Posted on Monday, September 12th, 2022 at 8:24 pm.
Nothing says "summertime" like a good old-fashioned bonfire! In the U.S., this summertime tradition is as old as the nation itself. After all, there is no better time or place to connect with nature and with other people than around the warm flames of a blazing bonfire.
In June, AuPairCare au pairs and host families alike took advantage of the beautiful San Diego summer weather they were having and met at Leisure Lagoon Beach to gather around a bonfire! The fire, the perfect temperature, and the eventual sunset all combined to make for one unforgettable evening.
Like any good bonfire, the host families, host children, and au pairs gathered around the campfire to roast hot dogs and marshmallows, sing songs and warm their hands by the fire.
For some au pairs, it was the first time roasting hot dogs and having smores! Needless to say, the au pairs were delighted by the opportunity to partake in the American custom of using long sticks to roast marshmallows over the open fire and then eat them between two graham crackers with a piece of chocolate! They didn't hesitate to ask for s'more of them!
As anyone who has spent time camping knows, gathering around a bonfire is a terrific way to build a sense of community and togetherness through shared experience. And that's exactly what happened with these cultural exchange participants. The au pairs sparked conversations amongst themselves, bonding over their commonalities and delighting in their differences.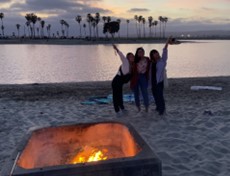 The usually shy au pair Akie from Japan stayed long after the event ended, continuing to socialize with her new friends. Au pair Mary from Germany expressed that the bonfire event had been a "happy, healing" experience for her after she had been struggling with homesickness. 
Additionally, host families had a chance to connect with other families in the area. Some even set up playdates with their kids. After, some host families asked if the bonfire could become an annual event. 
It's safe to say that some great connections were made that day. With many s'more to come!
Categories: Participants, Program Spotlight


About Karen Ward
Acting Deputy Assistant Secretary for Private Sector Exchange
Karen Ward has been with the Department of State and the Exchange Visitor Program for over thirty years. Karen joined Private Sector Exchange as the Director of the Office of Private Sector Exchange Designation in December 2014. She previously had worked on all aspects of the Exchange Visitor Program, including program analyst for the secondary school student, teacher, post-secondary student, research scholar, trainee and intern categories and served as the Division Chief of the Private Sector Programs Division for three years. She spent three years as a Policy Analyst and a Senior Compliance Office within the Office of Exchange Coordination and Compliance. She has extensive knowledge on program management, the regulatory process, form development, and SEVIS administration.

Karen, a native of Maryland, is a career federal civil servant with more than 30 years of service, working mostly in the areas of international exchanges and operation management. She enjoys mentoring and volunteering in her community.