Posted on Tuesday, January 10th, 2017 at 9:47 pm.
By Sarah Bailey, Marketing Manager, EF High School Exchange Year
A version of this story was originally published on EF High School Exchange Year blog
Meet the Schutte Family from Rushmore, Minnesota, who are celebrating a decade of hosting exchange students!
What is the best part about hosting a J-1exchange student?
The special relationships that develop are priceless. Our three daughters have also benefitted immensely from these exchange experiences. We get just as much out of it as the students do. I regularly wake up to e-mails from my students, and we Skype with them weekly. This past fall, two of our daughters got married and each had a former exchange student as a bridesmaid in their weddings! Our students will always be like daughters to us and hold a special place in our hearts. Someday our girls will host too – it's a no-brainer.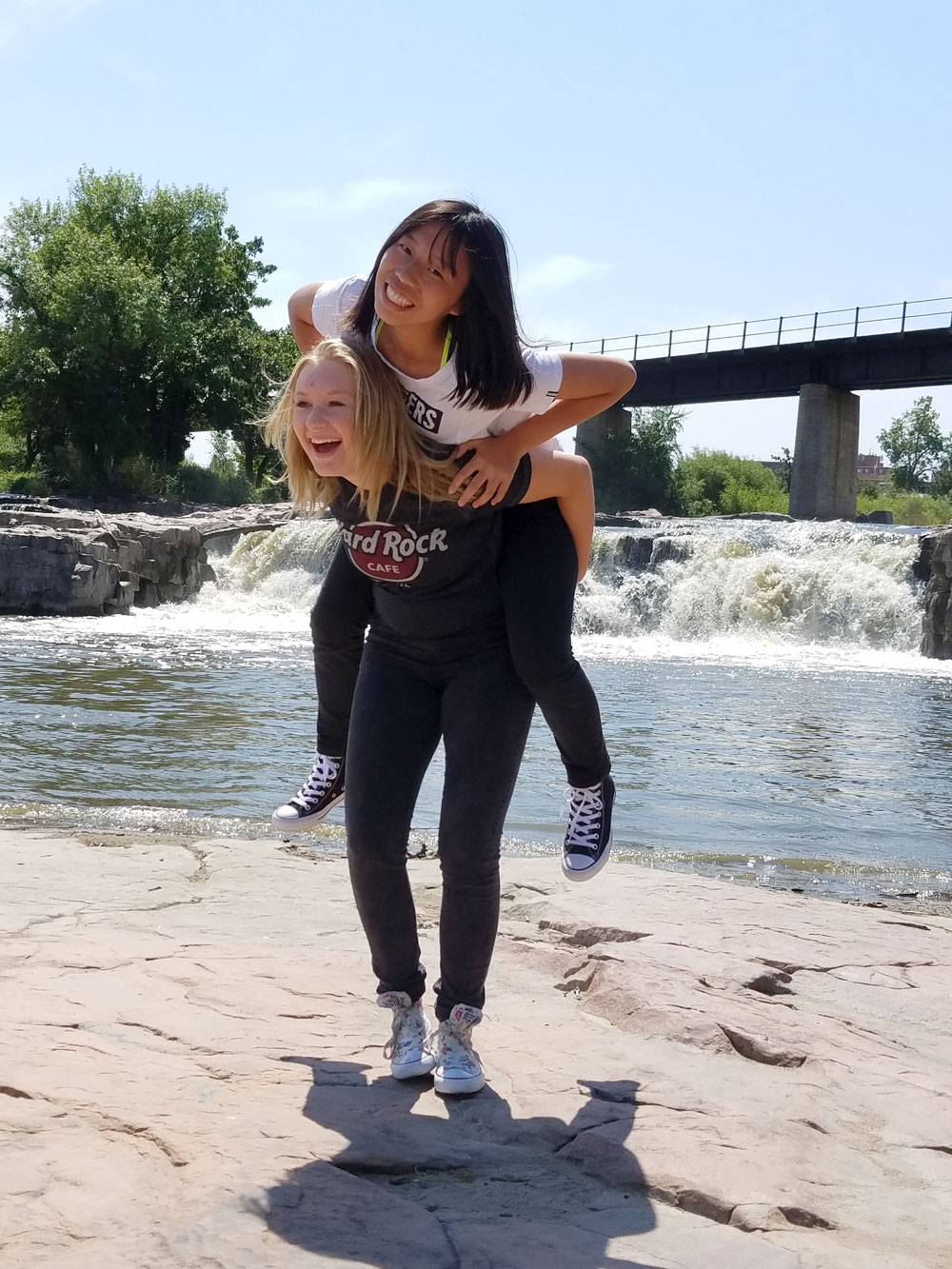 What kinds of activities do you enjoy doing with your students?
For us, the most memorable experiences are not the fancy trips to Disney World or Las Vegas, but the simple things – those are what the students appreciate the most. It's our everyday life of helping out on the farm, to picking apples, to feeding the family horses, and even watching the sunset and viewing the millions of stars that can be seen from our rural home – which is a first for many students who come from big cities with tall buildings and bright lights. It's the little things that are the big things.
What advice would you give to a potential host family?
You have the opportunity to change lives for the better – both the host family's and the student's. Broadening student's horizons is just one of many important benefits to hosting. We personally feel we have raised more globally aware children because of the diversity in our home. Being able to expose our children to new cultures, and our exchange students to a new lifestyle, are all benefits of the exchange experience. The rewarding feelings that we have from watching the change in our students starting from Welcome Days in NYC to their departure at the end of the year are invaluable. Who knew a stranger living thousands of miles away could become such an important part of your life?
As empty-nesters, Lisa and Paul are not planning on slowing down anytime soon. They are currently host parents to two exchange students in the Class of '17. Little do their students know, they've not only been inducted into an open environment of language sharing and global awareness, but to an international family that will be in their lives for years to come.
Categories: Program Spotlight


About G. Kevin Saba

Acting Deputy Assistant Secretary for Private Sector Exchange
G. Kevin Saba serves as Acting Deputy Assistant Secretary for Private Sector Exchange at the U.S. Department of State's Bureau of Educational and Cultural Affairs (ECA). In this capacity, he oversees the Exchange Visitor Program, which brings around 300,000 foreign citizens to the United States annually to teach, study, and build skills. He is the Director for the Policy and Program Support Division in ECA's Office of Private Sector Exchange.
Read More