Posted on Tuesday, September 9th, 2014 at 7:51 pm.
After a few stunning days at Grand Canyon National Park, I headed for Sedona, Arizona. It was so hard to leave the awesome beauty of Grand Canyon, so I was thankful to be heading nearby to Sedona to enjoy the spectacular red rocks before ending this leg of Route J-1.
Enchantment Resort in Sedona has hosted J-1 Summer Work Travel students for many years. With a full staff of about 500 American employees, they hosted around 20 international students in the Summer Work Travel program this summer, and two culinary interns. I went to have a firsthand look at how they conduct their J-1 programs.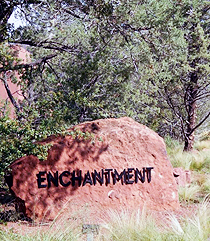 Guest compliments and collegiality among American employees and J-1 international students are standard at Enchantment. From the director of human resources to the executive chef to the food and beverage manager, Enchantment values their international students and interns. The managers work hard to meet and even exceed the high expectations students have for their program. Their commitment to their international students can be seen through their purchase of an apartment complex to house their students along with their practice of providing free transportation. They also promote students who show initiative and high quality work. The J-1 program is very important to Enchantment, they love it when their students come back a second year and bring their friends.
One student who did just that is Kosta Cvoro – a Bosnian geography student who returned to Enchantment for a second summer this year and brought five friends with him.
Kosta chose to join a J-1 program because he really wanted to experience the United States. He also specifically chose Arizona, because he wanted to see "desert, cactus and cowboys." Kosta's study of geography turned him on to Arizona, but once here, his adventurous spirit and openness took him in even further. With hopes of pursuing a Master's degree in geography and information technology, he traveled to Phoenix to visit Intel and to the University of California at Berkeley to interview a nanotechnology professor. This is one focused and determined young man!
I met with many of the other students at Enchantment this summer and they, along with Kosta, agreed they learned a lot about how a large American company operates. The high degree of management and organization has left an impression on these students. As one student from Montenegro explained to me, it is one thing to study organizational management, but this program has enabled her to see and experience it for herself. The students also agreed that coming to a small town was the right choice for them. They have made many friends among the American staff and feel like they have a family here. I could see that their managers felt the same way!
Categories: J-1 Visa, Participants, Program Spotlight


About Rebecca Pasini
Deputy Assistant Secretary for Private Sector Exchange
Rebecca A. Pasini joined the Bureau of Educational and Cultural Affairs as the Deputy Assistant Secretary for Private Sector Exchanges in July 2023. A career member of the Senior Foreign Service, Class of Minister - Counselor, Ms. Pasini has been an American diplomat since 1997.

Ms. Pasini previously served as the Director of Public and Congressional Affairs in the Bureau of Consular Affairs from 2021-2023. Other Washington assignments have included positions in the Bureau of Consular Affairs, the Bureau of Western Hemisphere Affairs, the Office of Foreign Missions, and as a liaison to the Department of Homeland Security. She has also completed multiple overseas tours, including as Minister Counselor for Consular Affairs in Islamabad, Pakistan, and as the Consular Chief in Rio de Janeiro, Brazil and Belfast, Northern Ireland. Other tours included Mexico City and Kuwait.

A Maryland native, Ms. Pasini has a Ph.D. in Political Science from Indiana University, a master's degree in National Security and Resource Strategy from the Eisenhower School, National Defense University, and an undergraduate degree from Mary Washington College.