Cultural Enrichment Pilot Project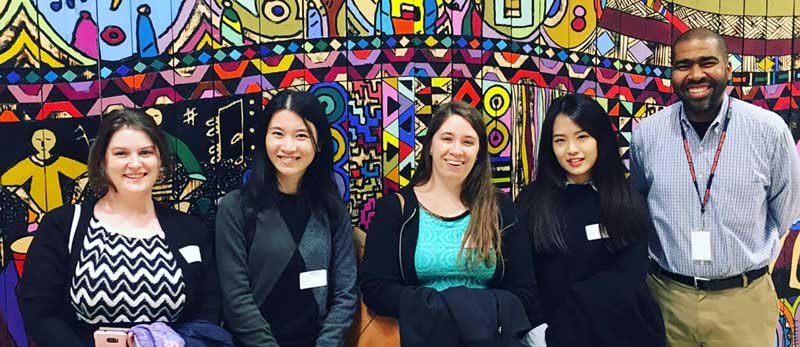 Partnership Building: Creating New Cultural Opportunities
The State Department's Bureau of Educational and Cultural Affairs Office of Private Sector Exchange is linking up with the Global Ties U.S. Network. In partnership, we are launching a pilot project that explores ways that Global Ties' network of Community Based Members (CBMs) can partner with U.S Department of State Designated Sponsors to provide cultural activities and volunteer opportunities to exchange visitors in local communities.
Meeting Mission Strategic Goals
These pilot projects provide additional opportunities for exchange visitors to experience United States society and culture and engage with Americans as well as complement the cultural activities already being hosted by U.S Department of State Designated Sponsors, host organizations and entities, and
Community Support Groups
across the country. These efforts enable the Department to successfully fulfill its mission to foster mutual understanding between Americans and citizens of other countries.
Who May Attend Events?
Events are open to participants of all J-1 Visa program categories unless otherwise indicated.
Find a Pilot Project
During the summer and fall of 2017 Initial Pilot Organizations will be launching pilot projects in their local communities. See full list of events on the J-1 website.
Initial Pilot Organizations
What is the Global Ties Network?
The members of Global Ties U.S., located in more than 100 communities across 45 states, are community-based organizations that administer a variety of international exchange and cultural programs for the Bureau of Educational and Cultural Affairs mostly for the International Visitor and Leadership Program in their local communities.
Calendar of Events

Global Ties Alabama | Huntsville, Alabama
U.S. Space and Rocket Center Summer Exploration Extravaganza
Friday, August 25, 2017 (12 p.m. - 4:00 p.m.)
The Summer Exploration Extravaganza is here! Fill yourself with a leisurely lunch at the Mars Grill before enjoying a guided tour of the U.S Space and Rocket Center including Saturn V hall. The afternoon is topped off with a showing of an Imax movie in the 67-foot Spacedome theatre! Only 40 spaces are available. Don't miss out! Go to http://bit.ly/2vme8fs to sign up for the event. See promotional flyer.

Global Ties Arizona | Scottsdale, Arizona
Grand Canyon Tour
Thursday, August 17 | Thursday, August 24 |Thursday, August 31
Spend a day at the Grand Canyon, America's most known and desired National Park. Located in the Northwest corner of the state of Arizona, this one-day excursion is the perfect opportunity to explore a natural wonder of the world while you are here. You will depart Scottsdale early in the morning and be taken to the canyon, where you will have 4-5 hours to explore the South Rim. Lunch is on your own at the canyon at one of the many options available. Your return to the Scottsdale area will be in afternoon, and extend into late evening. Plan for a 12-15 hour day, depending on traffic and number of needed stops for the group. Details offered at registration. Call Wendy at 480-945-7750 for more information and to RSVP for your excursion. See promotional flyer.

Global Ties San Diego
Seal and Sea Lion Adventure
Saturday, September 16 (10:00 am - 2:45 pm)
Join other international visitors for a day of networking and community building over brunch and a harbor cruise on the beautiful San Diego bay. Just steps away from San Diego's main train station (Santa Fe Station), visitors will begin their day at 10 am with waterfront brunch at the uber-hip Carnitas Snack Shack, a local favorite. Following brunch, we will board a two-hour Hornblower harbor cruise where we will take in the urban cityscape and ocean landscape while getting a front row view of seals, sea lions, and other local residents. Following brunch and our tour, we encourage you to spend the afternoon exploring San Diego's downtown area at your own leisure, which includes attractions such as the Midway aircraft carrier, Seaport Village, Little Italy and the historic Gaslamp District. To buy tickets, please visit: http://bit.ly/2wcyRBa

The International Student Company | Miami, Florida
International Exchange Summit (I.E. Summit)
Saturday, October 14 (1:00PM - 6:30PM)
I.E. Summit offers you a life-changing experience of Inspiration, Empowerment, and Connections! Connect yourself with J-1 participants from all across the globe who are ready to become your future life-long friends and get inspired by leaders across industries based in Florida, who will help you achieve your goals during your J-1 journey. Join us in Miami for a half-day filled with fun activities, keynote speakers, followed by an American College Football Game by FIU Panthers vs. Tulane Greenwave! To register, please visit: https://goo.gl/LTCm5j Learn about the Complete List of Speakers, Agenda and More Details at: http://iesummit.us/