Posted on Wednesday, December 20th, 2017 at 6:05 pm.
By Anna Boisseau, Communications Officer, Cultural Vistas
A version of this story was published on Cultural Vistas Blog
You'll see a different menu every time you walk through the blue doors of Per Se, the Michelin three-starred New York restaurant located across from Central Park. This creativity is in part due to the diverse staff that collaborates in the Per Se Kitchen, including international trainees.
With Chef de Cuisine Eli Kaimeh at its helm, the restaurant invents new concepts for their nine-course tasting menu daily. While the overall vision of the restaurant is Thomas Keller's, the whole kitchen staff of 40 is involved in planning the next day's dishes. "[It's] usually a discussion by everybody sitting around a table. And that [really] includes everybody," said Kaimeh.
To keep with the Per Se standard, Kaimeh looks for menu additions that are simple, but technically-exquisite, with a focus on using seasonal ingredients. An idea is often suggested by one chef and then changes after input from rest of the kitchen to what you see on the final menu.
"There have been hundreds of ideas and beginnings of ideas by all the [chefs] and from all of their backgrounds," said Kaimeh of their daily planning meetings. "And that diversity really plays into the strength of that creative process."
Pierre Pouplard is an international trainee currently on the kitchen brigade.  Per Se hosts international trainees throughout the J-Visa Exchange Visitor Program. After working in top restaurants in Paris, Pouplard joined the team last August and has since become a vital part of the kitchen.
It's this collaborative planning process that shows why international trainees like Pouplard have been such an asset to Per Se. They bring experience from global kitchens into the Manhattan-based restaurant and, even more importantly for Kaimeh, an attitude that mirrors his seriousness about food.
According to Kaimeh, Pouplard exemplifies what Per Se looks for in its international trainees. Along with cooking expertise, the soft-spoken young French chef brings an eagerness to learn. As a native of Northern France, he fit seamlessly into the kitchen, which uses classic French cooking techniques with a New American twist. As part of the acclimation, Pouplard is learning about American techniques, ingredients and food concepts "It's been a big benefit for him to understand what we do," said Corey Chow, the Executive Sous Chef.
Pouplard agrees that Per Se is the ideal place for him to pick up new skills, along with practicing English. That's because the staff has gone the extra mile to work with him. "When I started here, my English wasn't very good but they showed me what to do [with hand gestures], so it made sense for me," said Pouplard.
"I think the ease and his approachability and how he works with others is what makes people gravitate to want to show him things," says Kaimeh. "It seems as though cooking is very natural to him and working around others is very natural to him."
This work ethic and attitude have helped Pouplard quickly move up the kitchen hierarchy. He's recently been promoted to the saucier station, where he prepares meats and sauces. The saucier is considered one of the most skilled chefs in the restaurant. In addition to learning technical skills, Pouplard said he's benefiting from Per Se's creative reimagining of dishes.
"Sometimes it's like Indian style or Chinese style and it's really interesting to see that in a three Michelin-starred restaurant," he said of Per Se's innovative tasting menus. Additionally, he's learned about American food through the world-renowned New York City restaurant scene, which is as multifaceted as the city's diverse population. He's particularly enjoyed trying Latin American cuisine.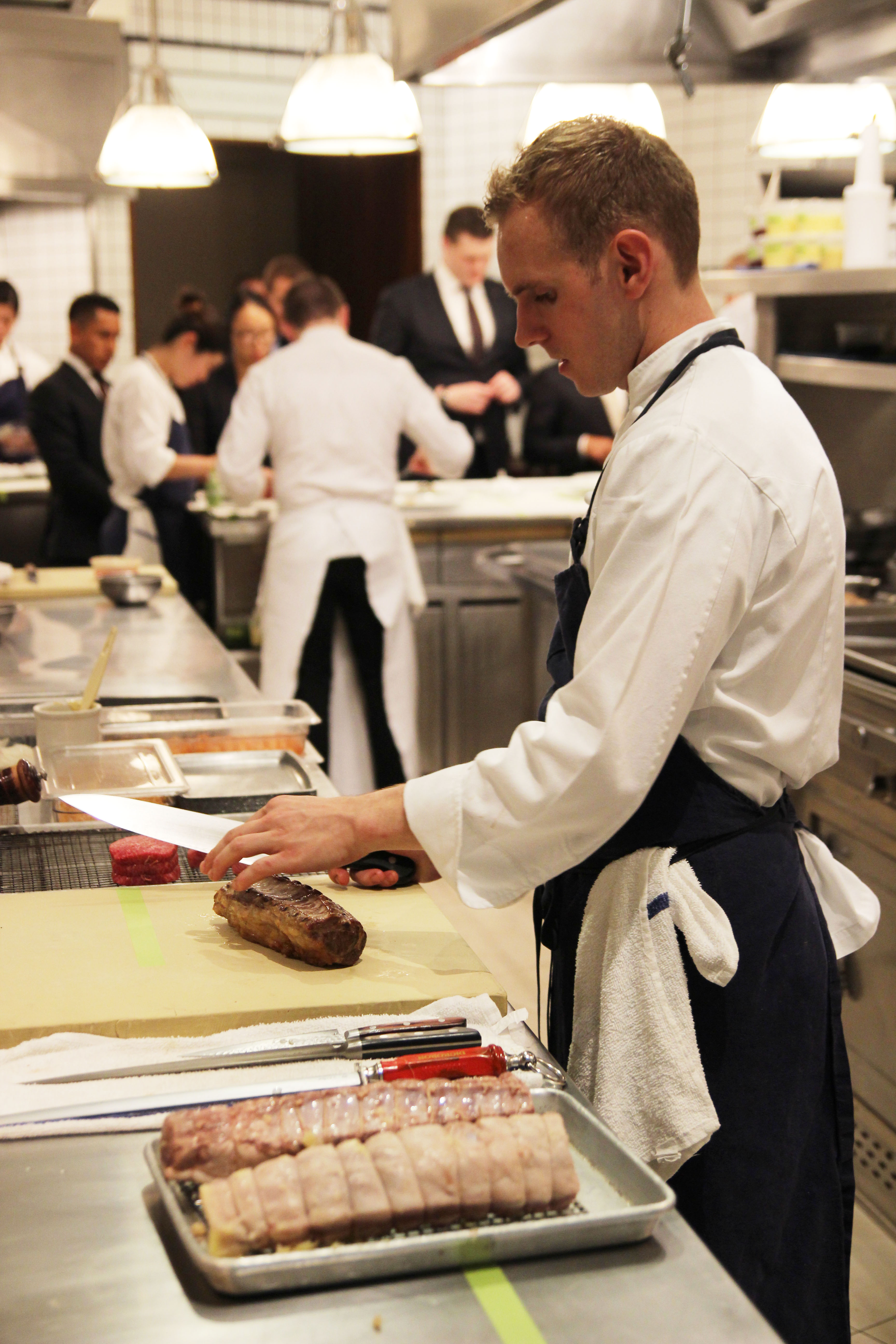 Pouplard is set to stay at Per Se into the fall, but, like other trainees in the past, Kaimeh thinks his value to the restaurant will go beyond that. Because of all the international chefs they've hosted, Per Se's network expands into dozens of other countries. Kaimeh said this cross-training
is something that makes the culinary world unique. It's very common in the industry to spend time learning in other restaurant's kitchens.
"Relationship building is really important to us," said Kaimeh. "We have a spiderweb of past [trainees] who have gone back and have gone on to do their own things and are still a part of this restaurant."
Categories: Program Spotlight


About G. Kevin Saba

Acting Deputy Assistant Secretary for Private Sector Exchange
G. Kevin Saba serves as Acting Deputy Assistant Secretary for Private Sector Exchange at the U.S. Department of State's Bureau of Educational and Cultural Affairs (ECA). In this capacity, he oversees the Exchange Visitor Program, which brings around 300,000 foreign citizens to the United States annually to teach, study, and build skills. He is the Director for the Policy and Program Support Division in ECA's Office of Private Sector Exchange.
Read More